2007 Fall Rocky Mountain Conference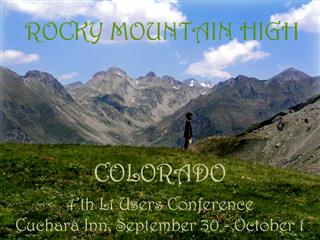 Please use this page to share your ideas and plans for the event. Click the edit tab above. If you create an account - please use the same Name as you use on the Bose® Pro Portable PA Community so we'll recognize you.
Ken and Tom's announcement: 2007 Fall Rocky Mountain Conference
Date
September 30, 2007 - October 1, 2007
You should plan to be in Cuchara no later than Sunday afternoon. Some of you may want to take advantage of the trip to spend extra days. We'll have music on Sunday evening. Then, we'll conference on Monday day and evening (more music) and we're out on Tuesday. Loved ones are welcome to join us.
Conference Venue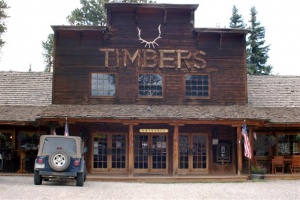 The Timbers at The Cuchara Inn. A bar from days gone by where legendary Texas singer-songwriters like Jerry Jeff Walker & Michael Murphey used to play.
Lodging
For accommodations, there are rooms at the Cuchara Inn (where we'll hold the conference) and the Yellow Pine Ranch just up the road that are available to us at a fair price. Rooms at the Inn are standard hotel rooms. Cabins and a few houses are available for families and groups at the Yellow Pine (more details to follow).
Reservations:
Cuchara Inn, 73 East Ave., Cuchara, CO 81055. Tel: 719.742.3685 $69 plus tax - ask for Bose conference rates
Yellow Pine Guest Ranch, 15880 State Highway 12, Cuchara CO 81055. Tel: 719.742.3528 $85 to $155 plus tax. Check website for descriptions of cabins (click on Cabins link) - Yellow Pine Cabins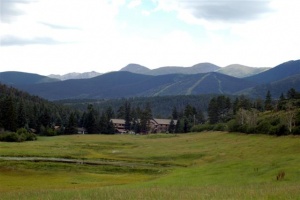 Getting to Cuchara
Google Maps and Directions from Nearby Airports
Denver Internation Airport to Cuchara (3 hrs)
Colorado Springs Airport to Cuchara (2 hrs)
Albuquerque NM Airport to Cuchara (4.5 hours)
Things to Do in the Area
There are lots of things for you & your family to do in the area. Check out these websites for information. We may be able to get some special group rates on train rides on the Rio Grande Scenic Railroad. The area is beautiful in a different way than most expect for Colorado.
Sangres.com Loads of information about the area.
Southern Colorado Homes Lots more information -- art galleries, hiking, horseback riding and more.
Rio Grande Scenic Railroad Historic train from La Veta to Alamosa.
Celtic Music Festival A well known Celtic music festival starts the Thursday before our conference that some folks may want to attend. Some of these musicians will probably join us on Monday. Their last event is Sunday night - a big Celtic jam that goes late into the night.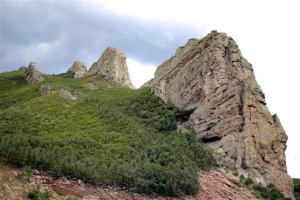 Attendees to Date
(Bose message board name in parentheses.)
Folks Travelling Long Distance to Cuchara
Dennis Higgins (dhcrow): Guitar, Bass
Garry Hennan (Bose Guy In Calgary): Assisted Direct Sales Rep
Gittar-Jonz: Message Board Pioneer, Guitar, Vocals
John Sweet (John S): Assisted Direct Rep, Guitar, Vocals, Drums
Mr. Sweet (Johns' Dad)
Rick Jordan (rwj): Guitar, Vocals
Jeff Holliwil (holliwil)
Ms. Holliwil (Jeff's daughter)
Folks from the Region
Tom Munch (Tom Munch): Professional Singer/Songwriter, Assisted Direct Rep, Conference Organizer
David Enke (David Enke): Proprietor of Pickup-the-World pickups
Johnny Watson: Local singer & duo partner of Tom Munch
Lee Lechner
Nancy Lechner
Lechner Trio 1 of 3
Lechner Trio 2 of 3
Lechner Trio 3 of 3
Steve Dey: Local guitarist from Pueblo West
Bose Folks
Akira Mochimaru: General Manager, Professional Systems Division
Bill Becker (Bill-at-Bose): Electrical Engineer, Trumpet
Craig Jackson (Craig-at-Bose): Senior Product Manager, Guitar
Chris Ickler (Chris-at-Bose): Senior Research Engineer
Chuck Nemitz (Chuck-at-Bose): Northeast Sales, Guitar, Vocals
Cliff Henricksen (Cliff-a-Bose): Senior Engineer, Keyboards, Vocals
Ken Jacob (Ken-at-Bose): Director of Advanced Development
Mike Zartarian (MikeZ-at-Bose): Electrical Engineer, Bass
Steve Skillings (Steve-at-Bose): NA Sales, Guitar, Vocals
David Steele: Training Manager, Guitar, Vocals
Kyle Harris (BigKyle-at-Bose): NA Sales, Guitar, Vocals
Equipment
If you don't see it here, then plan on bringing it with you. And if you are bringing something, then please add your gear to the list. Thanks.
L1™ Equipment
Tom Munch
1 L1 Model II
12 B1's
2 T1's
2 A1 PackLite amps
Instruments
Please list instruments, microphones and any other gear you have in your signal chain that you are bringing. Chuck Nemitz
Variax 700 Electric
Pod XT Live
Damage Control WMZ & Glass Nexus
Mics/cables: (1) Neumann KMS105, (1) Sennheiser 421, (1) Sennheiser e609, (1) Shure Beta 58A, (2) Shure SM57, (1) EV RE20, (1) Rode NT2000
Needed
Program: Music / Tech Talk / Community
(Subject to change without notice)
Sunday
Arrival (All)
Musical History of the L1 system (Ken, Cliff, others)
Music (2-4 songs by established solo and small-ensemble acts; sign up below)
Monday
T1 ToneMatch audio engine and L1 model II (Craig, live music demos, others)
Musical interlude (2-4 songs by an established solo or small ensemble act; sign up below)
ToneMatch ear training (Cliff)
Custom ToneMatch presets (Cliff)
Musical interlude (2-4 songs by an established solo or small ensemble act; sign up below)
Vocal/Guitar/Performing Technique (Tom)
Musician-honed specifications for helping others evaluate the L1 system (Chris, MikeZ, others)
Dinner/rest
Music (some predetermined songs, rhythm section as anchor, featured artists: see below)
Tuesday
Detailed Descriptions of Some Agenda Items
Custom ToneMatch™ Presets: Cliff Henricksen
Tone Freaks: Let's TWEAK!
One of my activities at this conference will be making custom ToneMatch(TM) filters for individual artists. Bring your instrument(s) and we'll get the tone you want, I guarantee it (ever see "Mens' Warehouse" commercials on TV?). The exact manifestation of this is unknown at present but the path to the answer is in motion. At worse, we'll get the tone and it will be posted in a few weeks after the conference for download to the T1. At best, it will show up on your own T1. I'll have 3 or 4 of the EQ's I've done all the TM stuff with, so we can a/b/c. Maybe we'll do a Fall 2007 ToneMatch(TM) collection and post it for download.
Custom ToneMatch(TM) Preset
Please add your name (& instrument/s) to the list if you would like to have a custom preset/s created at the conference.
Steve Dey (acoustic guitar, Dobro)
Music
Sunday Night
Sign up area for short concert performances by established solo or small ensemble acts.
Please add your name to the list if you would like to play.
Tom Munch (acoustic guitar, voice)
Cliff Henricksen (electronic piano, voice)
Monday Night: First Part
Monday Night: Second Part
rhythm section
Please add your name to the list if you would like to be a part of the rhythm section.
John Sweet: Guitar or drums
Chuck Nemitz: Guitar

song list
Please add a song. Be sure to post a chart that includes chords, melody and lyrics.

featured artist
Please add your name, instrument (including voice) and song you want to play/sing on.
And More
Door prizes [tbd]
Make this wiki article your message board signature
If you want to feature the Conference in your Message Board Signature then you need to
Copy / paste the text in the box below into the signature box of your personal profile.
Here is how you do it.

click in the box below and the text should be selected automatically for you.

-= OR =-
Select the text in the grey box -(all the way to the right) Hint: in most Windows browsers, triple click on the text above and it should select what you need.
[URL=http://toonz.ca/bose/wiki/index.php?title=2007_Fall_Rocky_Mountain_Conference]2007 Fall Rocky Mountain Conference[/URL]


Okay - now to get this into your signature in the Message Board:
ctrl-c to start the copy.
Go to your personal profile,
View/Edit your profile (right side of screen),
click in the signature box,
ctrl-v to paste it.
Scroll down and click the Submit button to save the changes).

Now your signature will look like this:
   2007 Fall Rocky Mountain Conference

---