L1® Classic, Model I Power Stand Connections
L1 Classic shipped between 2003 and 2005
The L1 Classic had features built into its input/output panel that allowed the three amplifiers to be used separately as power amplifiers. For example, up to six B1 Bass Modules could be driven from an auxiliary Power Stand. See: Classic Extended Bass Package
The input/output panel as it appeared in units shipped between 2003 and 2005 is shown.
(Units that look like this were shipped with Presets 1.0 installed. An upgrade to Presets Version 2.0 is available and highly recommended.)

On the right side of the input/output panel, there are inputs for

All Amps In
Amp 1 In
Amp 2 In
Amp 3 In

L1 Classic shipped between 2006 and 2007
Units that shipped between 2005 and 2007 were shipped with the Version 2 Presets. The input/output panel of these later units have a blue ring around the Amp 3 output (for B1 Bass Modules).

Detailed View of Input / Output Panel for 3 Amps
Note: All white inputs are unbalanced (Amp 1, Amp 2, Amp 3 ,All Amps In)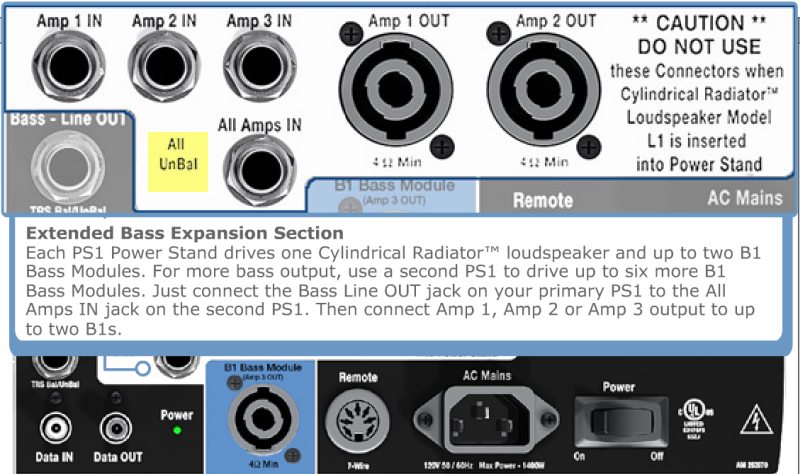 Model I
The L1 Model I uses a simpler input/output panel
Dropped Amp 1 out, Amp 2 output found on the L1 Classic
Identified by orange labels and L1® logo
RoHS compliant.
Shipped with Presets 3.0 installed.