Raked/Bleacher Seating
Case Study - Raked/Bleacher Seating
This originally appeared in Mixing L1 and F1 speakers for live performance
If you will perform in a venue with raked/bleacher seating you should ask:
The depth of the venue
The elevation from the stage floor to the highest seats
THe width of the seating area
The width of the stage
The depth of the stage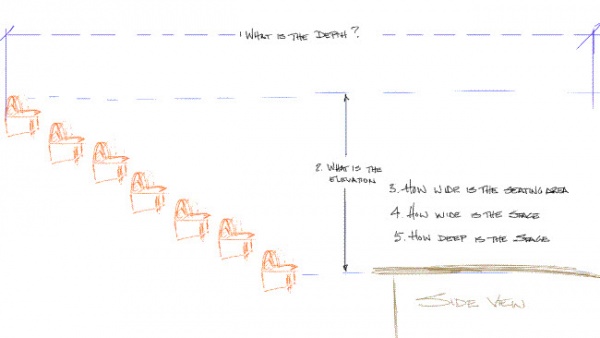 This is a non-scientific illustration of what you can expect.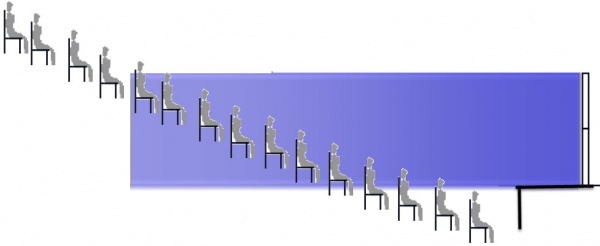 The L1 Model II is at the far right.
I've shown the projection of the Cylindrical Radiator® (the tower) in the blue zone.
People in the blue zone will hear the L1.
People above and below the blue zone will hear too, but the mid-high frequencies may be muffled.
The people in the upper rows may not hear the sound clearly. If you were expecting a full house, this could be a problem - one you could solve with F1 Model 812 Flexible Array Loudspeaker systems because you can direct sound upward.

You have a couple of options if you are not expecting a full house:
Put the L1 systems behind the band
This will be familiar in terms of sound and setup
This will give you a consistent sound level until you get above the blue zone in the illustration. Above that, the mid-high frequencies may be muffled.
People will have the option to move up to the quieter area in the higher rows
Main sound and monitoring

Connect the T8S Main Left/Right Outputs (1/4 inch (6.3 mm) Tip-Ring-Sleeve outputs) to the L1 systems.
Notes: T8S to L1 Model II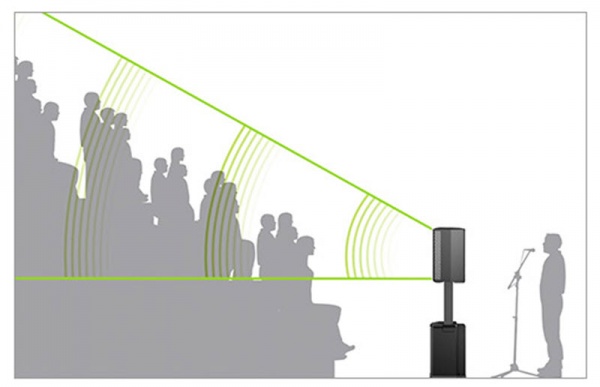 Add a couple of F1 Model 812 Flexible Array Loudspeaker systems (F1 Subwoofers optional)
This will give you more overall volume - especially on the dance floor
The sound will be loud on the stage and fall off (not drastically) as you move farther back
The mid-high frequencies will be heard throughout the room
People who prefer a lower volume won't be able to escape the loudness
Main sound output

Connect the T8S Main Left/Right Outputs (1/4 inch (6.3 mm) Tip-Ring-Sleeve outputs OR XLR) to the F1 Model 812 systems

Monitoring

Connect the T8S Aux 1 Output to the L1 behind the band
Notes: T8S to F1 Model 812 XLR Connection, T8S Aux Output
---