Sub1 and Sub2 Technical Training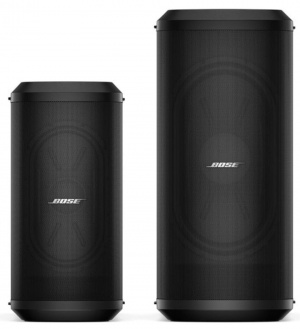 Documentation
T4S

T8S

S1 Pro  

Sub1 Sub2
Preferred Method
Connections with Sub1 or Sub2 and the S1 Pro system
For best results, the signal flow should go from
The signal source (e.g., ToneMatch Mixer[1], mixer, DJ console) output to
The Sub1 or Sub2 subwoofer LINE IN 1 ()
The Sub1 or Sub2 subwoofer LINE OUT 1 to
The S1 Pro system with channel volume set to 10 o'clock.
Note these settings on the Sub1 or Sub2

👉 Set LINE IN EQ to L1
👉 Set LINE OUT EQ to S1 (Press and hold LINE OUT EQ button for 4 seconds)
Set up this way,
The Sub1 or Sub2 handles frequencies from 40 Hz (Sub1) 37 Hz (Sub2) to 150 Hz
The S1 Pro system handles frequencies above 150 Hz
The picture shows a stereo setup, but illustrates the principles for mono. The signal flow is from left to right.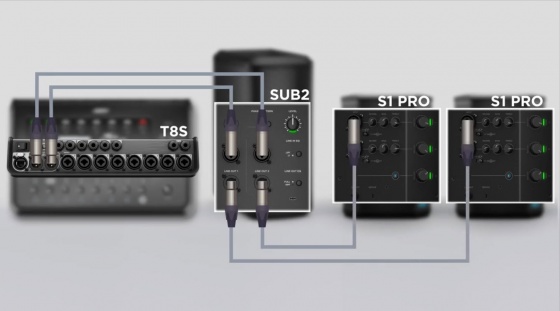 Recommended cable
Use an XLR to 1/4 inch (6.35 mm) Tip-Ring-Sleeve cable for best results.
If you use an XLR to XLR cable, the signal may be too hot for the S1 Pro system.
Alternative Connection
Can I connect the S1 Pro Line Out to the Sub?
The method described above is preferred, but you can use the S1 Pro system as the sound source (e.g., microphone and guitar and backing tracks via Bluetooth) Note the following:
The S1 Pro system will sound the same as without the subwoofer (62 Hz - 17 kHz)
The Sub1 or Sub2 will cover from 40 Hz (Sub1) 37 Hz (Sub2) to 150 Hz
You will be able to push S1 Pro system harder (louder) if you route the signal as described at the top of this article
---
---
Cooling
Question
How are the Sub1/Sub2 cooled?
Answer
Sub1 and Sub2 have extruded aluminum heat sinks mounted to the backside of the I/O panel. This pulls heat out of the electronics and transfers some to the air moving through the acoustic volume of the sub and helps to cool.[2]