Larrivée Serial Numbers
From Bose Pro Portable PA Encyclopedia FAQ & Wiki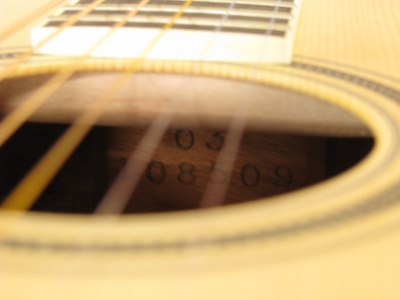 Larrivée Date of Manufacture Lookup

Larrivée now has an automated system to find the date of manufacture of your Larrivée guitar based on the serial number.

Larrivée Date of Manufacture Lookup

Serial Number Location

Find the serial number on the inside of the guitar on block at the base of the neck.

Typically this will appear as two lines.

Model number: The top line (usually one or two characters)
Serial number: The second line
Serial Numbers from Owners
If you just entered your serial number it may not show up here for up to 5 minutes. Sorry, I don't have any control over the update timing. This should be in order by Date, but unfortunately I have to trigger the sort manually. I'll do this from time to time.
see the whole spreadsheet in a separate page
Please note: There are many reasons why the serial numbers are not in clear ascending order strongly correlated with the date the guitar was started or later, sold. So there will be glaring inconsistencies. The early entries are probably the most vulnerable to these vagaries. As you get into the mid-80s and beyond the serial numbers are more consistent.
Add Your Serial Number
If you don't have the manufacturing date - see: * Obtain your Manufacturing Date.
Manufacturing Date
Your guitar was started in production ______. By started in production, I mean the sides were joined at the blocks, a serial number assigned to the instrument, and the serial number registered in our books. — Source
---