The Very First Use of the L1® Idea in an Ensemble
This is some historic photo for ya. This is the very first use of the system as originally intended. I finally got some development money and put a 4-unit system together. These are the grey ones in the photo of Joe Kutil and I. You should be aware that even at this point, Ken and I were doing this as a sort-of "hobby" project, not really officially sanctioned by Bose Corporation but certainly within our overall license as engineers to do stuff we thought would be of some as-of-yet-unseen value in the world. I must say that at this point (at the time of the photo), this was the hands-down best system I ever played my keys through, period. Same for my voice, although I wasn't that happy with what I was managing to sing in those days. "Eww", I thought. "Better get back in the wood shed".
Nevertheless, this was the system's maiden voyage for an amplified ensemble. I think my wife Bonnie took the photo and I love that it's all grainy, like some ancient artifact. Buddy MacLellan played drums, Jeff Majeau played his Renaissance fretless bass and Bob Lituri played his PRS using, as I remember, his Peavey Ultra 120 amp and some kind of "Power Soak" thing to drop the voltage. Jeff used a Peavey bass amp head that was bi-ampable, so we used it that way with the Peavey amp driving his 15" cab and an external amp driving the big line array. This was simply adjusted to suit, way before ToneMatch™ happened. Only Bobby and I sang. We used Shure Beta58 mics and I forgot what we used as a front end for them. My guess is it was a Mackie 16x4 with the 4 subs connected to each system. I think we just amplified the kick drum and snare and we used a US Sound dual 18" cab and Bose 1800 amp for the low end.
And, to be totally honest, we were not the first band to use this system. It was for an annual Spring event in Framingham called "Greenup Day", where volunteers run around cleaning up the Sudbury river and local parks. It culminates in a barbecue and concert for the participants. This particular year it was sunny warm and beautiful. We played on a concrete pad right next to the lovely and large Farm Pond. I'm getting to the "totally honest" part. The opening act was The Jones Brothers, a very solid R&B ensemble. They went on first, and so they were really the first-ever band to use the system. That in itself was a curiosity. They looked at these big grey things like the "monkeys and the monolith" scene in "2001 A Space Oddyssey", probably thinking "where's the PA, and what is this?". I remember this very clearly. We just plugged them in, handed the lead singer the mic and said "try it". That's all it took. They all heard it right away, said "it's good; let's play" and simply went on and did their show. They loved it. I also remember little kids and their mommys sitting in the grass close to the band and thinking we had something really great going on; no one was recoiling or fleeing in horror of the usual toxic sound levels. I started calling this thing "the world's friendliest loudspeaker".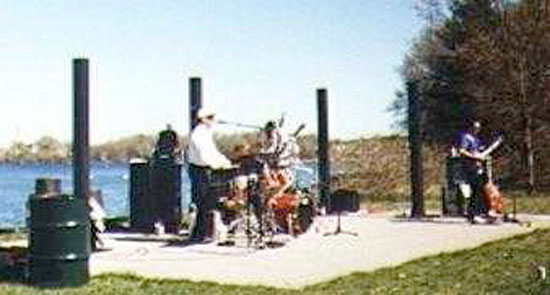 — Cliff-at-Bose