T4S/T8S ToneMatch® Mixer Firmware Updates
From Bose Pro Portable PA Encyclopedia FAQ & Wiki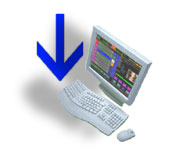 L1® Updater Software

L1® Updater Software application. (two versions available)







For best results, please download and extract all files mentioned below to the same folder on your computer. This will make it easier to do the updates.

These instructions describe how to update the firmware of your ToneMatch® mixer.

Download and install the LI System Updater tool at https://www.bose.com/en_us/l1_downloads.html
Connect the mixer to your computer via the 2.0 USB Type-B port on the rear panel of your mixer.
See Figure 1.


Connect your mixer to a power source via a ToneMatch cable or power supply and turn on your mixer.
To download the latest firmware, follow the appropriate link:

http://bosepro.link/t8s

Important

move the *.bos files to the same folder as the L1 System Updater. This will make it easier to find the files when using the L1 System Updater.

Launch the L1 System Updater.
Click the "Update" button next to "T4S (or T8S) Firmware". See Figure 2.







WARNING

Do NOT unplug or power off the mixer while it is updating.




PDF version T4S T8S Firmware Update Instructions




All firmware updates are cumulative. You only need to update to the latest version.

Version 1.0.10




Version 1.0.9

Version 1.0.6




Version 1.0.4




Version 1.0.3

Internal release, this is not available for download.

Release Notes

Fixes

Improved performance on some effects

Version 1.0.2




Version 1.0.1

Original factory release

| | |
| --- | --- |
| Download | Download - no longer available - please use the latest version above. |
| Date | 2018/02/01 |
| Replaces | N/A |
| Recommended for | N/A |
| System Requirements: | N/A |
| Related | N/A |
| Announcement | N/A |















For best results, please download and extract all files mentioned below to the same folder on your computer. This will make it easier to do the updates.
These instructions describe how to update the firmware of your ToneMatch® mixer.
Download and install the LI System Updater tool at https://www.bose.com/en_us/l1_downloads.html
Connect the mixer to your computer via the 2.0 USB Type-B port on the rear panel of your mixer.
See Figure 1.


Connect your mixer to a power source via a ToneMatch cable or power supply and turn on your mixer.
To download the latest firmware, follow the appropriate link:

http://bosepro.link/t8s

Important

move the *.bos files to the same folder as the L1 System Updater. This will make it easier to find the files when using the L1 System Updater.

Launch the L1 System Updater.
Click the "Update" button next to "T4S (or T8S) Firmware". See Figure 2.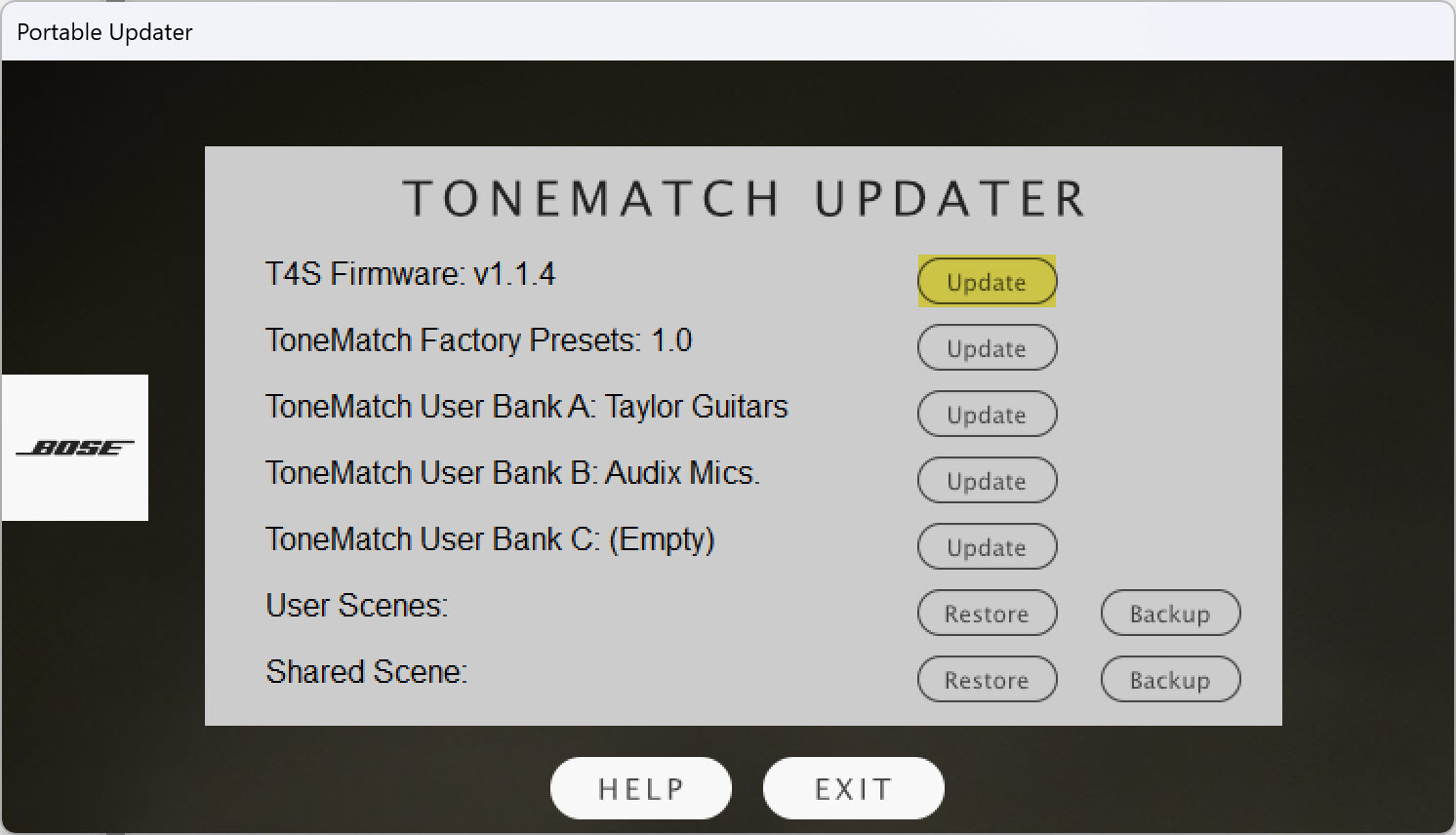 WARNING

Do NOT unplug or power off the mixer while it is updating.
PDF version T4S T8S Firmware Update Instructions
All firmware updates are cumulative. You only need to update to the latest version.
Version 1.0.10
Version 1.0.9
Version 1.0.6
Version 1.0.4
Version 1.0.3
Internal release, this is not available for download.
Release Notes
Fixes
Improved performance on some effects
Version 1.0.2
Version 1.0.1
Original factory release
| | |
| --- | --- |
| Download | Download - no longer available - please use the latest version above. |
| Date | 2018/02/01 |
| Replaces | N/A |
| Recommended for | N/A |
| System Requirements: | N/A |
| Related | N/A |
| Announcement | N/A |
---