Cliff Mics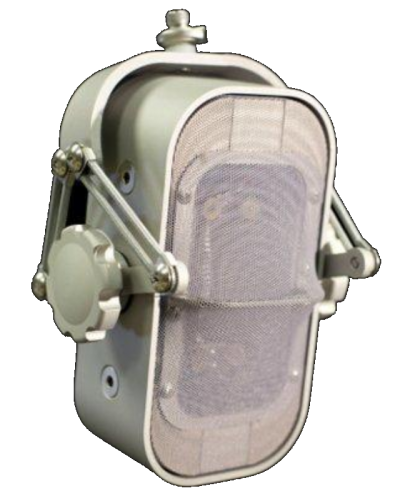 Cliff Mics RM1 (Oceanway Audio)
Introduction
The Ocean Way RM1-B microphone was designed, developed and engineered by pro-audio transducer inventor and technologist Cliff Henricksen. It was created to improve on well-known nuisance attributes of large-format ribbon microphones, namely low sensitivity (leading to a noisy processed signal), dull spectral output and difficult p-pop response.
The RM1-B's diaphragm is made from thin aluminum that vibrates in an intense magnetic field, creating unusually high output. The diaphragm's output is amplified by a carefully engineered and artistically voiced, low-noise phantom-powered preamplifier. This combination gives the user a true plug-and-play setup that rarely needs equalization, even in complex ensemble mixes.
The Grill and Pop-Filter System
A two-stage acoustically transparent, non-resonant debris and pop/plosives filter system prevents the usual artifact of close-proximity pickup for vocals and instruments. The first-stage is a non-metallic, non-resonant protective grille of tough, open-air, woven Nylon-Spandex. The second-stage is an internal sheer-knit acoustically transparent pop/debris filter that also improves close vocal applications and added ribbon protection.
Beautiful Form and Exquisite Function
Aluminum case components are softened and matte-surfaced/softened as part of the manufacturing process and finished with an attractive but unassuming hard-anodize outer coating. The first-stage grille is stretched so that it exhibits a graceful geometric form and pleasing color. The aluminum case surrounds and protects the magnets, clamps the main grille and is an electromagnetic shield for the electronics. The knobs feel great and look right in proportion to the microphone. The softened, etched and anodized case components and knobs have a silky and friendly feel that invites the touch. The first-stage grille, although tough, has a refined, soft surface, especially compared to most metal-mesh grilles.
In most cases, simple level adjustment is all that is required to make a beautiful recording of any voice or instrument. This microphone is superb for radio/TV broadcasting and for recording of many instruments including drums (NOT kick-drum), acoustic guitar, electric guitar amps, trumpets, trombones and much more. Its neutral appearance allows it to blend visually with any recording or visual broadcasting environment, looking beautiful without drawing attention to itself.
High Signal Level
A large-format corrugated diaphragm made of pure aluminum measuring 2 in. x 0.160 in. x 0.00007 in. is almost buoyant in free air, making it sensitive and responsive to changes in sound pressure. Its size and geometry give well-known output benefits of high mechanical velocity. An extremely powerful magnetic circuit results in an unprecedented 1Tesla gap-flux intensity level at and around the ribbon. This combination gives at least a 6dB boost in at-the-ribbon level compared to similar microphones.
A zero-feeback, all-discrete preamplifier works off standard 48v phantom power and delivers a solid mic-level signal with very low noise. All amplification is done at the ribbon, inside the microphone, allowing the RM1-B to deliver a true differential signal at a level that often requires very little upstream amplification (the kind of gain that makes the most noise).
Magnetic Boundaries Create HF-Capture Gain
Boundaries of the magnetic circuit are physically-shaped to both make efficient use of the monster NeO magnetic energy and (as you'll read in this section) to improve the capture of high frequencies above 6 KHz. This design detail creates improvements in sensitivity, capture of sibilance-detail and a more defined off-axis polar response in both directions.
Pickup Pattern of the RM1-B
In many ways the RM1-B picks up sound like any classic bidirectional large-format ribbon microphone. In the horizontal plane, full-fidelity pickup is achieved on-axis in both the front and rear of the microphone. This allows the microphone to be used in many unique ways from instrument/voice recordings to multiple voice recordings to a unique integration of direct sound and ambient sound.
The RM1-B's high frequency pattern, however, is unique among bidirectional microphones. Because of the shape of the magnetic circuit in the vicinity of the ribbon, the pickup pattern becomes determined by the geometry of the sloping walls of the iron magnetic conductors. This more selective pickup actually improves the ribbon's sensitivity and makes for a "tighter" HF sound in the upper two octaves, in both directions.
Features
Incredible ribbon sound for vocal, drum and many instruments with ribbon drawbacks
Integral shock-mount minimizes structure-born mechanical noise
Integral cable assembly with low-noise/low-capacitance Gotham GAC3 cable, integral compression strain relief and gold-plated Neutrik cable-mount XLRM
Pure iron magnetic circuit elements plated with electroless nickel for elimination of corrosion threat
All materials chosen for archival longevity (stainless steel, brass, nylon/polyester fabric and pure silicon rubber)
Every mic has Cliff Henricksen's Signature and best wishes for an enhanced artistic life using the RM1.
Specifications
Audio
Analog or digital: Analog
Frequency response: 20Hz to 20kHz
Max SPL: 140 dB (160 w/pads)
Connectivity: XLR
Pattern and type
Capsule: Ribbon
Polar pattern: Figure 8
Type: Mounted
Applications: Studio, stage
Diaphragm size: Ribbon
Switches: Lo cut, 80, 160Hz, -10 dB, -20 dB
Phantom power required: Yes
Included accessories
Case: Pelican waterproof
Clip: Yoke mount
Shockmount: Yes
Power supply: No
Size and weight
Width: 3.25 in.
Length: 6.25 in.
Depth: 2.1 in.
Weight: 7.5 lbs.
---