Commercial Launch Team
Introduction
For many years, Cliff and Ken worked on this project, occasionally collaborating with colleagues like Joe Kutil and Chris Ickler, Pete Premo, and many others. They all played key and crucial roles in getting approval to move forward and commercialize the technology.
And there were so many musicians that helped. Hundreds. And without their selfless effort and honest feedback, the technology would not be anywhere near as successful.
Upon receiving approval to commercialize, sometime in early 2002, a small team of people was hired who launched the L1 technology in October of 2003. Ken remembers the experience as akin to going into the wilderness for a long time with a new group of people.
Cliff Henricksen
This is Cliff again. The photo was taken when we did an proto-L1 test at a great nightclub in Philadelphia called North by Northwest.
Cliff and Ken piled all the gear in a Ryder van and drove down there. They did an early Music is Human presentation (in a nightclub!) followed by a concert.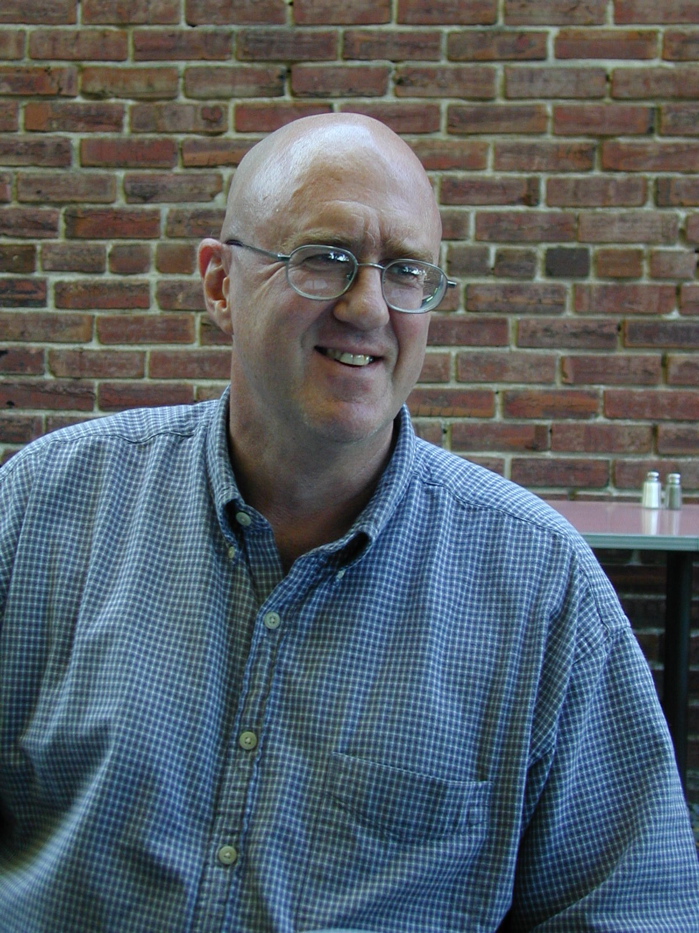 Buz Laughlin
This is Buz. He was in charge of developing the prerecorded audio and video content in the Music is Human show (the presentation we used to launch the L1 system.)
Buz did all the interviews with the pro musicians and produced the wonderful video material.
He was the director for Music is Human.
He was a major collaborator on the launch plan.
Buz is a musician and is one of the most passionate consumers of music I've ever met. We share a love of jazz.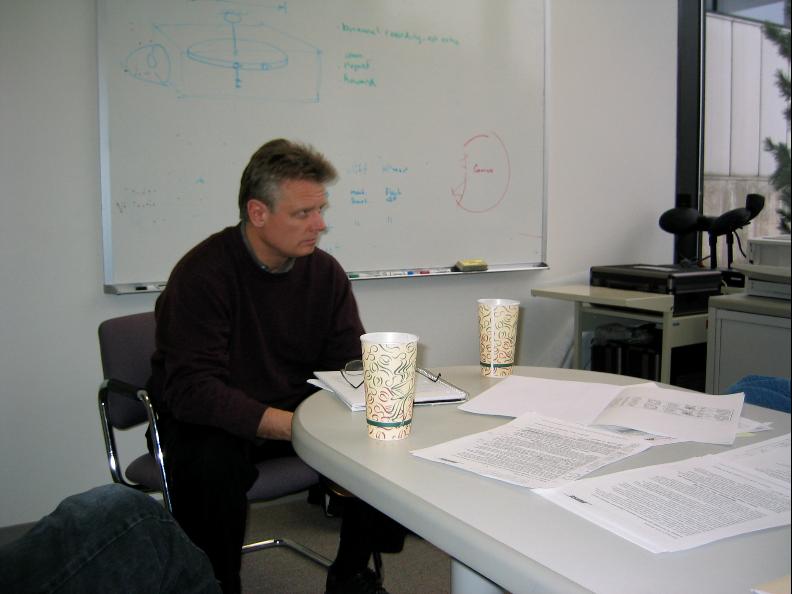 Tony Sarno
Next on the team came Tony Sarno.
Tony participated in our early work to understand the electric guitar and how it could work with the L1 technology.
He is a ferocious guitar player and singer, and an excellent songwriter. He's a total Pro.
He's a purist in terms of electric guitar tone and was an extremely tough customer in terms of demanding nothing but the best from the L1 system.
We hired Tony to represent the professional musician on our product development team, and to front the demonstration band we were developing called The Linemen. He was amazing at both.
He later built our team of field-based product experts, many of whom are still with us.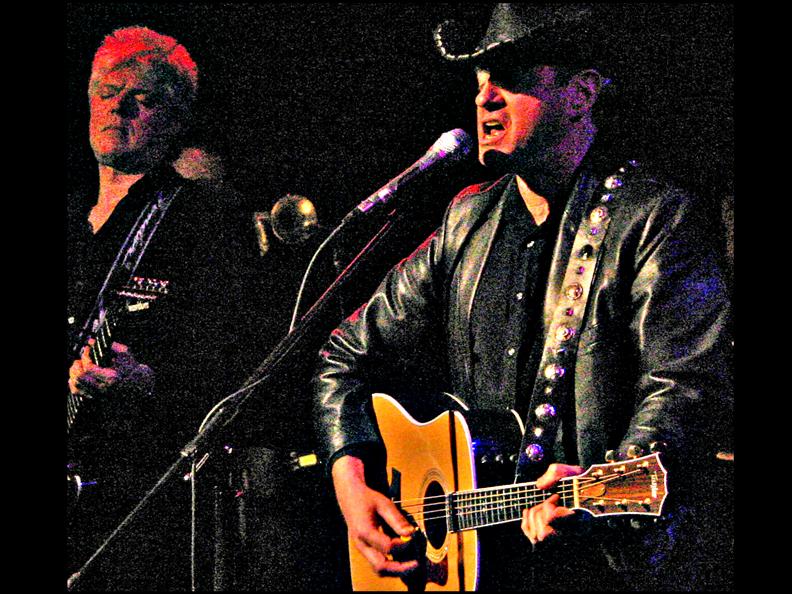 Eve Wrigley, Nick Ward
Next came Eve.
Things were heating up fast as the commercialization plans gelled.
Someone was needed to execute and to stop the rest dreaming up new things.
Eve was a producer that had worked with Bose before. (The best description Ken ever heard of a producer is someone who gets things done.)
She stepped in and immediately took charge of several gigantic looming projects, such as gutting the cafeteria here in our building and completely refitting it as a nightclub.
She organized all of the Music is Human events around the world, including completely taking over Guitar Center stores in Hollywood, Chicago, and New York.
Many of the best performance photos of people playing on L1 systems were taken by Eve.
With Eve in this picture is another member of our team: Nick Ward.
Nick was first hired by the hour to help us set up and tear down for early tests. He was and is a neighbor of Cliff's.
Before long Nick turned into the best stage tech any of us had ever worked with.
Nick is still our first call when we need stage help for a presentation or show we're doing.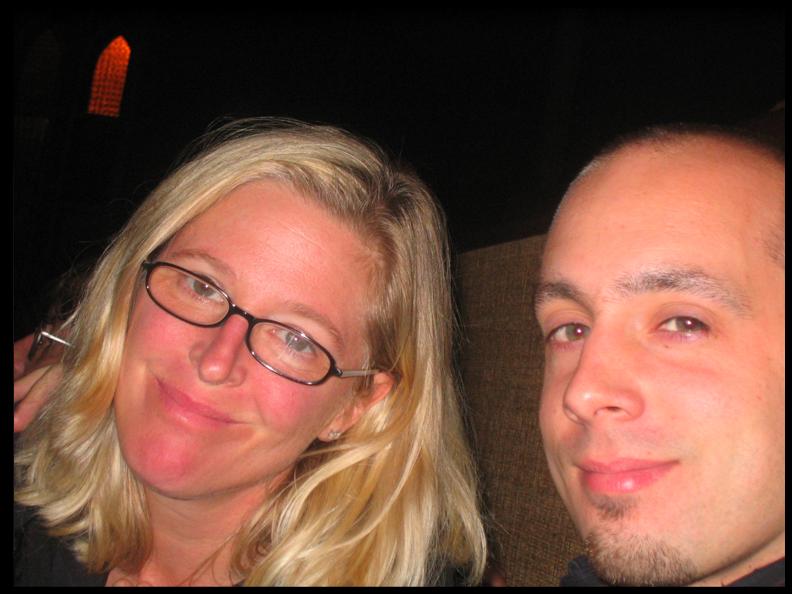 Thomas Wilson and Hilmar Lehnert
Next came a powerful Two-fer.
Thomas and Hilmar. They were good friends because they'd been playing in the same band for years -- The Souled Out Superband. In the photo, Hilmar's the guy on bass, and Thomas on keys.
Thomas had helped to the impossible in launching our Quiet Comfort headphones. Hilmar was a DSP wunderkind that had worked in research with me.
Thomas really is the mastermind behind our distribution plan and the business operation we had to build from nothing, or almost nothing. He truly understood how to take a radical new product to market and make it successful.
Hilmar became our engineering leader. He was in charge of what's now known as the L1 Classic, and the L1 model II and T1 audio engine. I think the quality of the engineering on these products speaks for itself.
In case you haven't guessed it already, what drew all of these diverse folks together was a passion for LIVE MUSIC.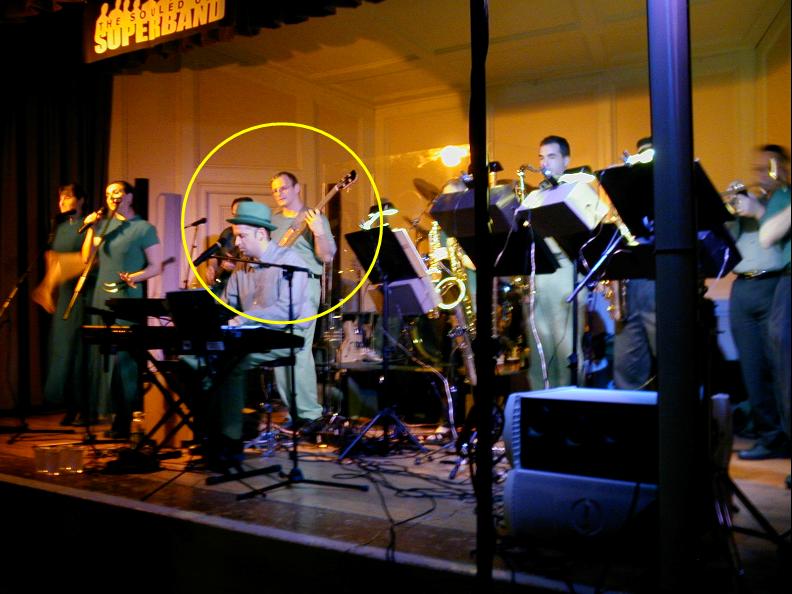 Kyle Sullivan
Next came Kyle, a keyboardist who was working with Thomas.
Kyle had/has an incredible ability to make complicated stuff work. And he's a great Technical Director in the dramatic arts field. Among other things, he did that for the Music Is Human shows, which were darned near flawless from my point of view.
Kyle also was the product manager and champion of the PackLite® power amplifier model A1.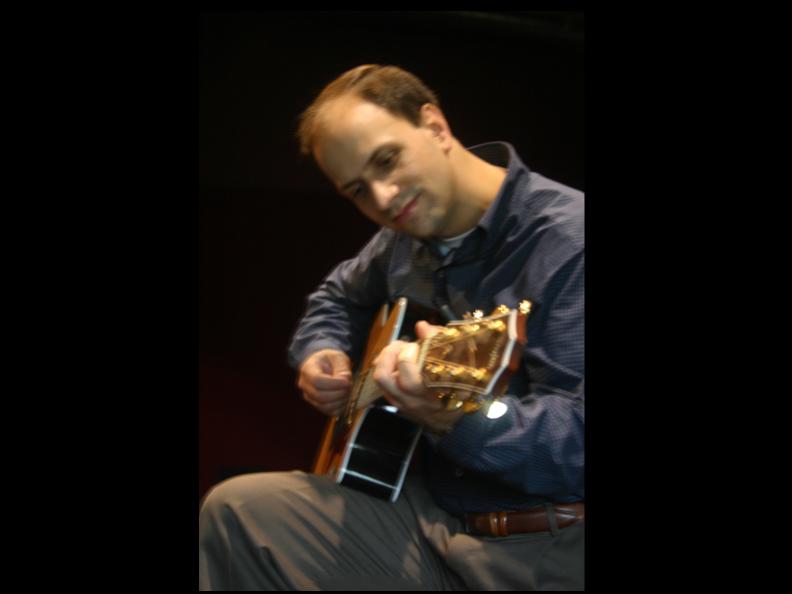 Steve Skilling
Steve was a top manager in our dotcom group and an avid musician.
He was instrumental in creating our original presence on the internet.
He also is the person who came to me and said "we're going to have a message board". I remember thinking to myself, I have no idea what you're talking about. Steve knew how big this community would be -- he was a visionary in this respect.
He also is the person who came up with our two most valuable trademarks: L1 and ToneMatch.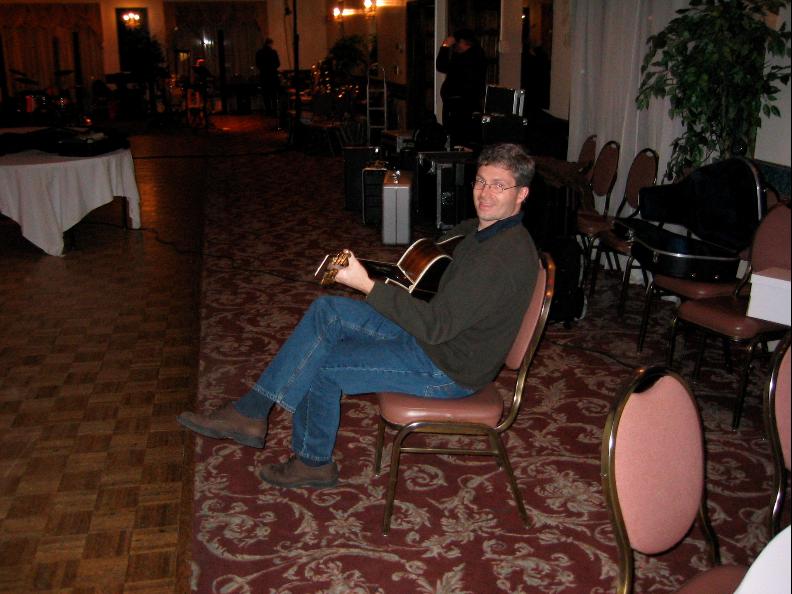 The Linemen
And of course, there is The Linemen, the musical group we developed to help us introduce the L1 system.
This photo was taken in Germany during the European launch of the L1 system.
The Linemen worked for about a year developing the music. They also helped us test the system in a wide variety of venues as we were coming down the home stretch before launch.
The band's lead artist was Tony Sarno. Cliff Goodwin was the second guitar and musical director.
Ken said "I think that when all was said about our work, and the band spoke, there was never a doubt in anyone's mind that the claims were true -- at least doubts were never expressed to me. People that I talked to were just floored by the music. It was the ultimate validation of our work, and I am eternally indebted to The Linemen for this."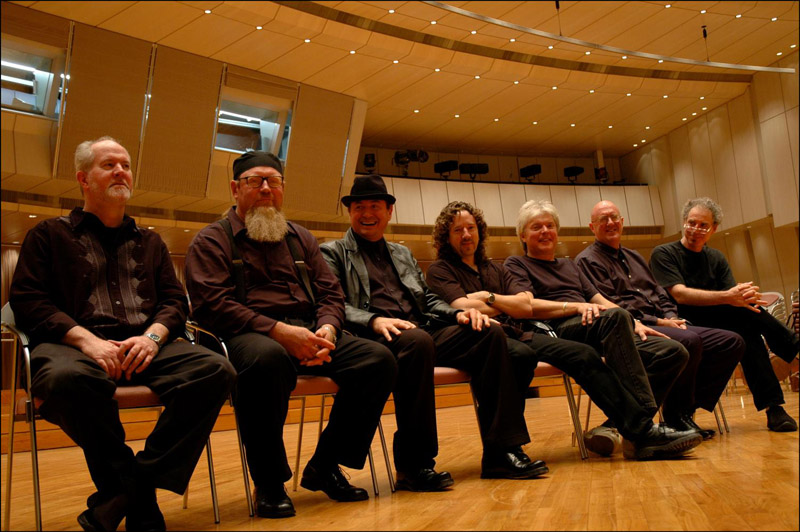 ---