Composite Acoustics 5iM-CE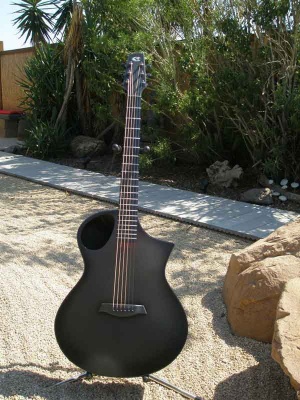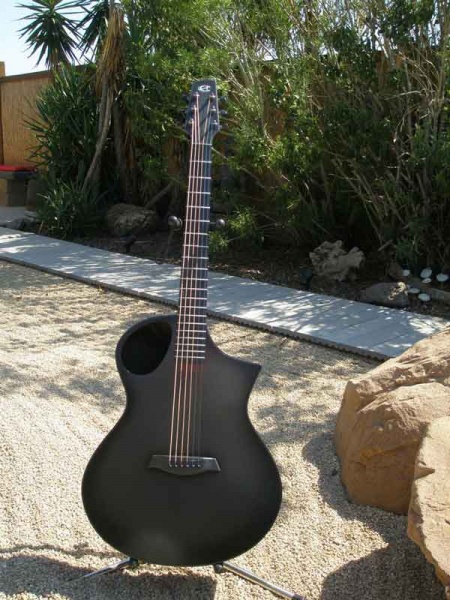 Model being reviewed is the GXi
Composite Acoustics (CA) makes excellent acoustic guitars out of carbon fiber. Humidity and temperature have very little if any affect on the sound and playability. Being made on the same solid aluminum mold makes them all very consistent within each model.
Sound
The sound is unique as expected, not being made of wood, but still very "acoustic guitar" sounding with rich almost piano-like fullness with very nice sustain. The low "E" strings is about as deep as they can be and very balanced with the others. The unplugged volume is about the same as the wooden counterparts. The 5iM-CE comes with the best gig bag I have seen, lots of padding and many compartments.
Playability
The neck is very good for fingerstyle, being wide enough and still comfortable enough for smaller hands. Action is right on and the only way to change it is with a different bridge as there is no truss rod... none needed because the carbon fiber is so strong. Stays in tune up and down the neck.
Workmanship
Very well made and obvious attention to detail. Mine was delivered US Postal Sevice ground and it was in tune with itself and about 1/4 step off.
Plugged in
Awesome! Really come alive here. Sounds great through many of my amps and especially the Bose. Finger picking or strumming ... it is all there.
Summary
I love it. Can't stop playing it. Try it and you just might have to buy it. I bought mine without trying one, just from reading about it everywhere I could find anything. So glad I took the leap. I call it my "Sports Guitar"
---