Composite Acoustics 7M-CE Grand Auditorium Guitar Review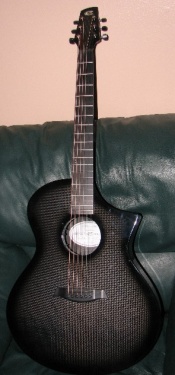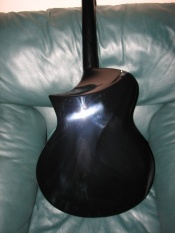 The Composite Acoustics 7M-CE is a mid-sized body, all carbon fiber guitar with a uniquely shaped cut-away.
The retail price of the 7M-CE is $2299.00 and the street price of the guitar was $1799.00
Composite Acoustics uses bracing, though not needed for strength, to shape the tone of their guitars to sound similar to a wood guitar. The sound is very good compared to almost any guitar that I have played, and it has become my main gigging guitar, taking the place of my Taylor 615CE. The only drawback is that I don't think it sounds quite as good as the Taylor ES system when plugged in.
It has the Fishman Ellipse VT pickup system installed from the factory, and it doesn't have much tone shaping capability.
I am looking for a little more control of my sound, as well as reducing the quack of the piezo pickup.
I am playing through an L1 Classic with a standard R1 and 2 B1's with a Sennheiser 945 microphone and using a Digitech Vocalist Live 4 for harmonies. I play in venues ranging from very small coffee shops with room for 10-15 customers, to large and outdoor venues. My main performance venue, (and my favorite) is a medium sized wine bar/cafe which holds about 75 people.
I have played between 10 and 20 gigs with it and have just ordered an LR Baggs Para Acoustic DI based on recommendations on the Bose L1 forum, to see if that makes enough of a difference in the sound. If not, I will upgrade to the LR Baggs I-beam pick up to use with the Para Acoustic DI.
I really like the fact that the all composite CA isn't effected by moisture or temperature.
Playing it unplugged, I like it almost as well as my Taylor--Almost.:-)
I still use my Taylor for recording as it is a little more balanced when mic'd. The CA has a little more of a tinkly bell sound on the upper register, but the bass is great.
All in all, the two guitars compliment each other very well, and I am glad that I have both of them.
If the plugged in sound didn't have the quack of the piezo pickup, I would say it was the perfect gigging guitar.
I am hoping that the upgrades that I am doing will help, and if I hadn't been used to the Taylor ES, I may not have even noticed it all.
Overall, I give the CA 7M-CE a rating of about 8.5 and if the plugged in sound were able to be closer to the Taylor ES, I would give it at least a 9.
9/13/08
Video
This review provided by Kings Court original post in the community
---