Dehlia Low: Setting up a 5 Piece Acoustic Band
Introduction
Dehlia Low is a new Asheville-based band focused on early country, bluegrass, and original music. Their songs feature hard-hitting vocals with tight harmonies backed up beautifully by masterful dobro and mandolin playing, lively fiddling, and a booming upright bass. Dehlia Low performs original songs as well as classic and modern bluegrass and old country numbers influenced strongly by Hazel Dickens, the Stanley Brothers, James King, and others.
The Stage Plot
There are 5 of us, we don't use pick-ups, or DI's of any sort. Three of us work around one large diaphragm microphone in the middle. We have another condenser right under that, mainly for the mandolin. A side condenser mic for the guitar, a side condenser mic for the dobro, and a dynamic mic attached to the bass. Like this:
Gear
2 x L1® Model I
2 x B1
Mackie DFX 12
Vocals: AKG 440
Mandolin: Shure M-81
Dobro: AKG C1000
Bass: Shure 57
Guitar: Shure KM109
What we do
We plug into the mixer with XLR's. We pretty much start everything on the mixer at 12 o'clock. Gain, highs, mids, and lows. And put the volume levers in the middle.
Keeping the L1 remote master volume turned all the way down, we go though each mic playing or singing loudly, and watch the lights. We turn as much up on the mixer as we can get before we see red lights on the mixer. When we see red, we back off just a bit. Then we run XLR's from the main outs in the mixer to the L1 towers, either one or two, depending on how big the venue is. (We don't often need two.) Then we turn up the trim on the towers and turn up the main out volume on the mixer until we see red lights on the tower. Then we back off just a bit. When the lights are set, we take down the mids and turn up the highs across the board on the mixer to clear it up. We can then turn the master volume switch up on the mixer as loud as we want WITH NO FEEDBACK!
Then we don't touch the mixer again! We do all of our adjusting with the L1 remote. This has worked out great, and we really have had no trouble with feedback, in awful rooms. Plus plenty of additional volume to work with.
Here's what the mixer looks like when we're playing: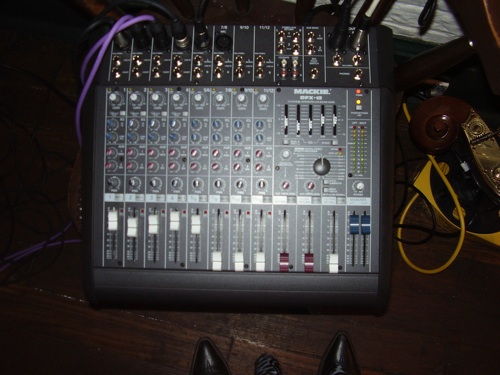 Other Comments
We absolutely love this system. It took us a while to figure it out, but now that we have it dialed in, we feel confident taking it anywhere, and being able to get the sound we want without constant feedback, even with condenser mics.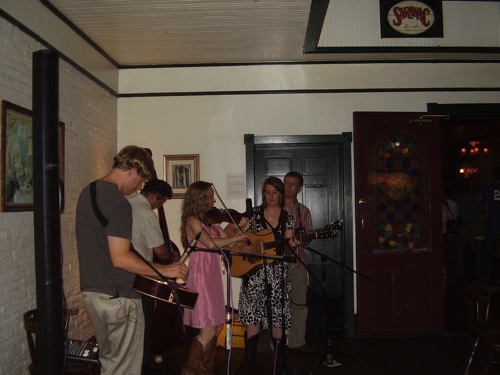 ---