Hardshell Cases
L1 Model I power stand: 26.0''W x 26.0''D x 5.0''H (66 cm x 66 cm x 12.7 cm)
L1® Model I Cylindrical Radiator® loudspeaker (each section):

Top Section: 43 1/8''H x 3.5''W x 4.0''D (109.54 cm x 8.89 cm x 10.1 cm)
Bottom Section: 43 1/2''H x 3.5''W x 4.0''D (110.49 cm x 8.89 cm x 10.1 cm x )

L1 Model II power stand: 5''H x 10''W x 27''D (12.8 cm x 26.2 cm x 69.2 cm)
L1 Model II Cylindrical Radiator® loudspeaker

Top Section: 43 ¼ ''H x 3½''W x 4''D (109.86 cm x 8.89 cm x 10.16 cm)
Bottom Section: 43 3/4''H x 3½''W x 4''D (111.13 cm x 8.89 cm x 10.16 cm)

L1 Model 1S Power stand 5"H x 10"W x 27"D 23.7 lb (10.7kg) (12.8 cm x 26.2 cm x69.2 cm)
L1 Model 1S Cylindrical Radiator® loudspeaker

Top array 39.63" H x 4.15" W x 4.13" D 16.3 lb (7.4 kg) (100.6 cm x 10.6 cm x 10.5 cm)
Bottom extension 39.63" H x 4.15" W x 4.13" D 8.5 lb (3.8 kg) (100.6 cm x 10.6 cm x 10.5 cm)
SKB Cases
Note: JohnL[1] tells us that SKB now sells the "1SKB-5009BL" as the SKB L1 and L1 Model II Case
Note: hned [2] tells us (Feb 2007) "These cases, now identified as UPC# 0789270500907, feature new TSA-accepted and recognized locking latches that are made of unbreakable fiberglass-reinforced nylon."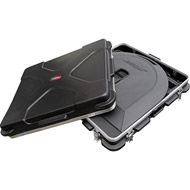 SKB site with details
Pelican Storm Case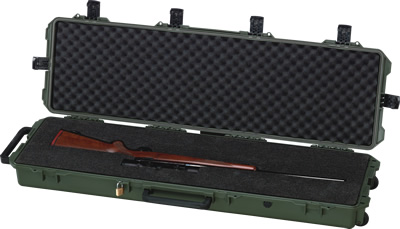 Adaptations from other sources
From Tom Munch[3]
Wal-Mart carries a Contico gun case for $21 & change every fall (during hunting season). I have had very good luck with my 5+ cases. I thought the latches would have failed by now (bought them in the fall of 2004), but they just keep going strong.
Contico makes several cases that you can see at the website here.
More from Tom: Tom Munch talks about good cases
Keyboard Case
This is a keyboard case from guitar center. I've searched high and low and I don't think you'll find a more perfectly sized off-the-shelf solution. I made the dividers out of 1/8 inch sheets of something or other wrapped in contact paper. Over two years and not a scratch on the radiators.

Odyssey Flight Zone Keyboard Case for 76 Note Keyboards - with wheels
Thanks to L1® User Jimmie Malone for the picture, text, and link.
Fishing Rod Case
Hi All, I have been waiting to add this for a while or at least until I could make sure they would hold up. Here is the issue with all hard shell transport cases for the L1™s I have seen so far. First, according to the airlines, they surpass the checked luggage requirements of most major airlines (50lbs or less and 62" measured length+width+height).

I first tried airline travel with the box the are shipped in and got charged $100 by Delta (different airlines have different fees). I then looked at gun cases and all of their variations. The airlines approve gun cases that hold up to 2 rifles. The thing is that I'm not carrying rifles and don't want to try tricking the airlines. It's destined to fail. Those that meet airline regulation were flimsy.

So, here is my solution. Fishing rod cases. The ones in the photos I got from Bass Pro Shop/ Outdoor World for $36 each. I duct tape them together to form one case. It weights 48lbs and is under the oversized baggage restriction anyway you want to measure it. The have been on 6 trips with my by airline and have held up perfectly.

Bass Pro Shops Plano Airliner Telescoping Rod Case

As far as the Model 2 powerstand, I have been using the shipping box it came it. Same with the B1.
That's what I've got for you.

Jed-at-Bose[4]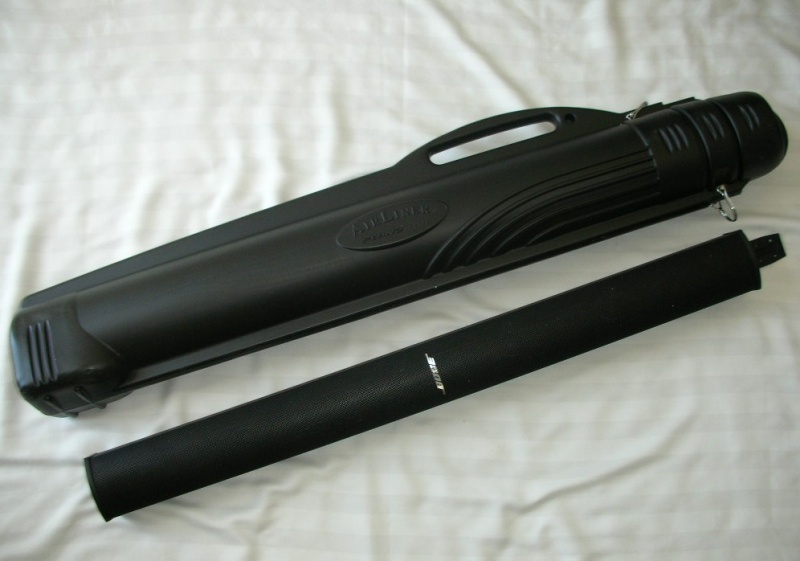 Discussions about Cases
Discussion on the Bose® Musicians Community Message Boards
Good Cases Excellent discussion with many suggestions, links, and pictures of different ways to protect the L1®.
---