Instantaneous Comparison Between L1 and Conventional Systems
Introduction
On two occasions, first in 2002 and then again in early 2003, and in two locations with two different bands, parallel systems and fairly elaborate electronics were used to perform the ultimate test: an instantaneous A/B between a high quality triple system and our 2nd generation L1 prototype system.
Wiring Diagrams
The original diagrams for the equipment set up are shown here.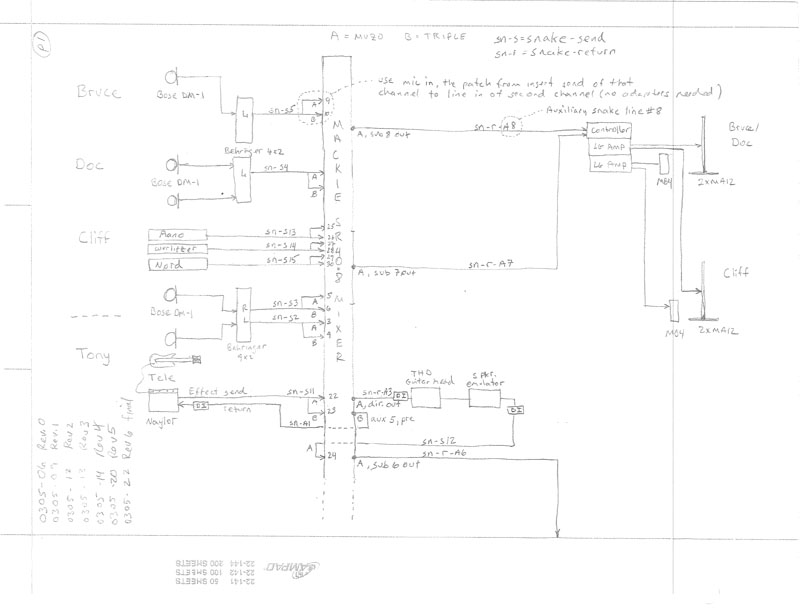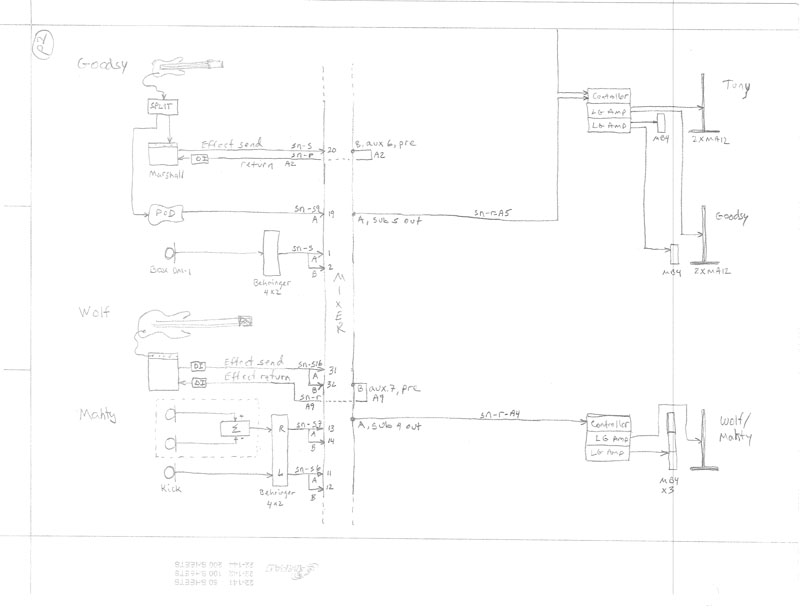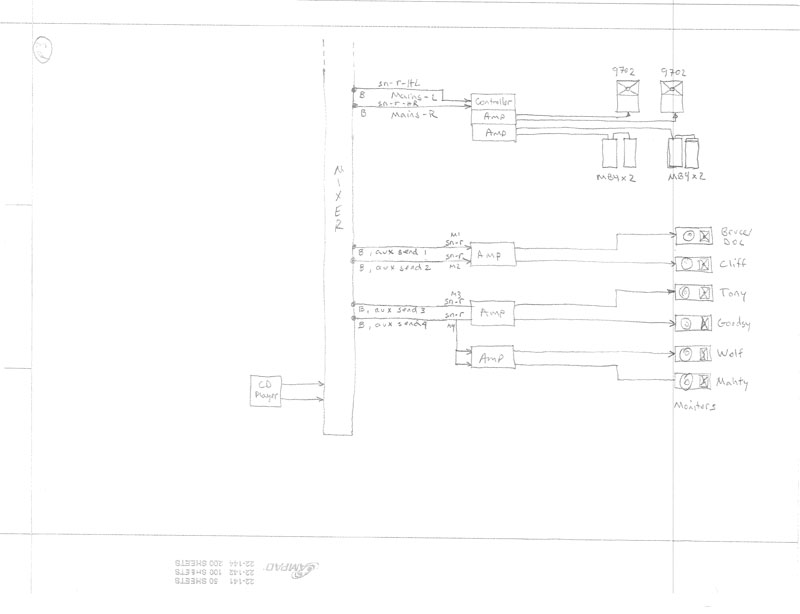 First Room and Band
Here's the setup in the first room: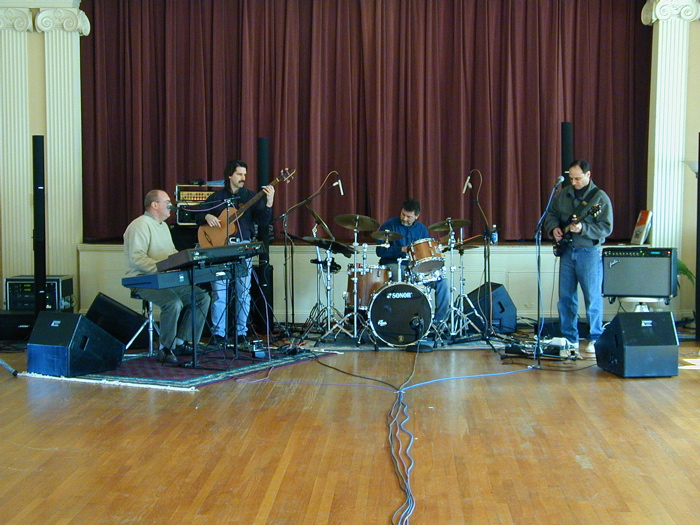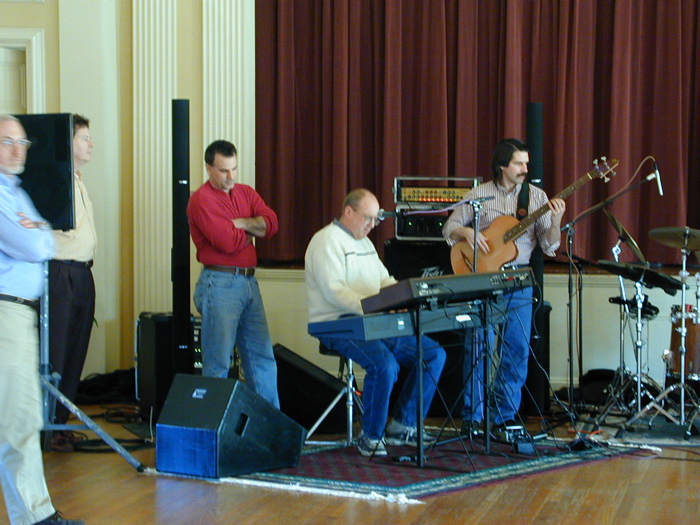 One of the hardest parts of this test was getting the musicians to play on a kind of autopilot.
The problem was that the change from one system was so abrupt that it was easy to be distracted musically.
In a sense they had to tune out your environment and just run the song.
Comments from Ken
According to Ken, the results of these tests were spectacular. "X" marks were taped on the floor in the audience area and on stage so that various listeners could hear the differences between the old and new approaches. According to Ken, "For me, it was a lifelong dream come true to hear how holistic the sound was from the L1 system. The best word I've come up with to describe the sound is 'clarity'. That word covers so much ground for me. It was like going from 2D to 3D."
Comments from Cliff
"We wanted a definitive demonstration of this new stuff we were working on. Although this would be a very elaborate and expensive test, I think it was one of those "know that you know that you know" reinforcers. So we set up my band. The test cemented our belief that we had the right idea. It gave us tremendous inspiration to go forward with the project. From a player's perspective, I've go to tell you what this was like. I guess it was the aural and experiential equivalent of going from the sauna to the ice water pool. It was like being in Honolulu and then, instantly, in Baghdad. It made me dizzy it was so mind-warping. I remember thinking 'please don't change it back any more'."
Second Room and Band
Here's a photo from the second test, at a different venue with a different band, The Linemen. This is the test for which I included the wiring diagram, above.
At this test we put a camera and a binaural recording dummy head on a dolly and recorded as we one-button-switched between triple and L1 systems.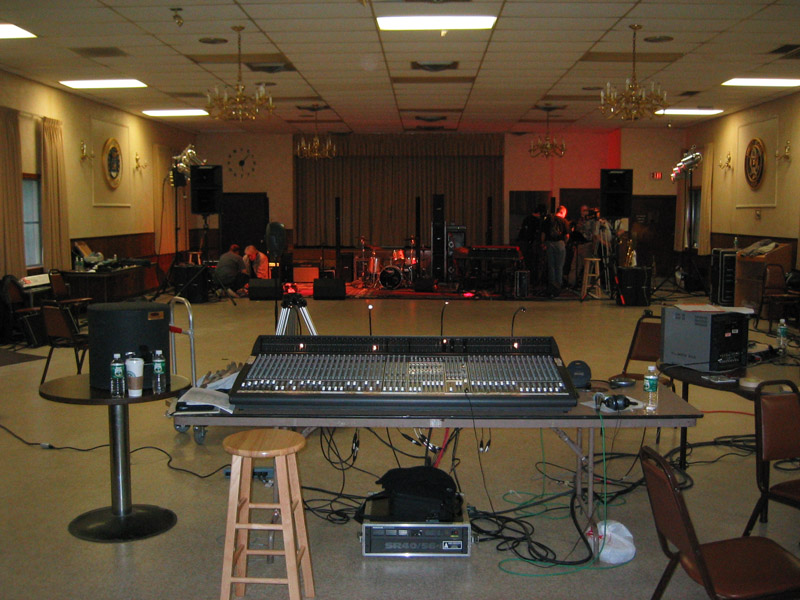 ---