Kemper Rig Manager Sync
How do I transfer my Rig Manager settings from my desktop to my laptop (both running Rig Manager)?
You can use the Backup Rig Manager Content features on your desktop.
Transfer the backup file to your laptop,
Restore Rig Manager Backup on the laptop. You will find these functions in Tools.
How do I keep two computers running Rig Manager in sync?
There is no automated way to synchronize two instances of Rig Manager. You can do this manually in Windows. You may be able to do something similar on a Mac.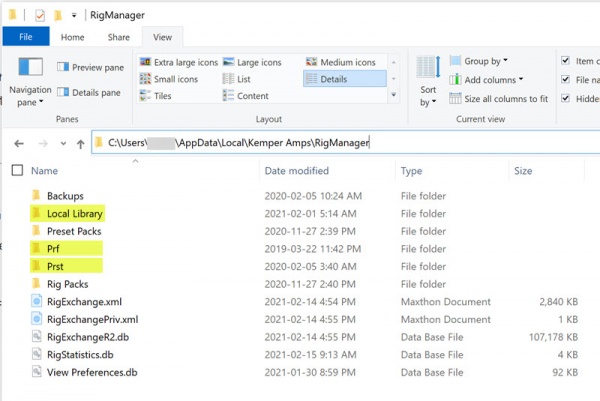 Designate one computer as the Source and the other, the Destination.
On the Source, navigate to C:\Users\<username>\AppData\Local\Kemper Amps\RigManager

Note: Folders for

Local Library (contains Rigs)
Prf (Contains Performances)
Prst (Contains Presets)

On a shared drive or USB key, create the same three folders (Local Library, Prf, Prst)
Copy the contents of the files you want to replicate into the respective folders on the shared drive or USB key
On the Destination, navigate to C:\Users\<username>\AppData\Local\Kemper Amps\RigManager
Copy the contents of the shared drive or USB key to the respective folders on the destination
---