PRS JA-15
Introduction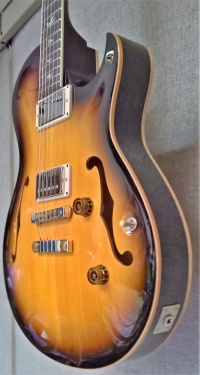 Paul Reed Smith JA-15 (Paul Jackson,Jr. Model)
Hollowbody Archtop Electric Guitar
15" body size
Single-cut hollowbody
Carved spruce top
Curly maple back
Mahogany sides
V12 finish McCarty Tobacco Burst
25" scale length
22-fret bound curly maple 'pattern' neck
Ebony fretboard
PRS 53/10 bridge humbucker
PRS 53/10 neck humbucker
Mother-of-pearl/paua heart bird inlays
Abalone headstock signature inlay
Ebony headstock veneer
Nickel hardware
PRS 2-piece adjustable bridge
PRS low-mass locking tuners
Description
Musicians Friend
Description from Musicians Friend
The result of a collaboration between Paul Reed Smith and Paul Jackson, Jr., the JA-15 was originally designed with jazz musicians in mind. But with several innovations, it's no surprise rockers are loving it too. Highlights include a "pattern" neck shape, 53/10 pickups, a 2-piece adjustable bridge, and V12 finish, all newly offered as standard appointments.
The warmth of the spruce top paired with the high-end clarity of the figured maple back creates a resonance in this guitar that is balanced with tonal clarity, and the simple control layout makes the JA-15 a joy to play.
The JA-15 incorporates the following new features:
V12 Finish
Finish should enhance the look, sound, and feel of a guitar by accentuating the wood's inherent beauty and feel without hindering its natural resonance. And PRS Guitars' new "V12" finish does just that. Introduced at Experience PRS 2010, "V12" is a very thin, hard, and clear finish that will not crack or react with thinners. After roughly 12 years in development, it is halfway between acrylic and nitro but with a classic feel all its own. "PRS models with this new finish feel like old instruments," said Paul Reed Smith.
Pattern Neck Shape
Neck shapes have always been a high priority for PRS and a hallmark of their quality. A guitar should feel comfortable, like "home," as soon as you pick it up, and the neck is paramount to that connection. Perfected after years of prototyping, the new "Pattern" neck is an updated Wide Fat PRS neck style based on Paul's pre-factory design. These necks were found on the instruments built for Carlos Santana, Peter Frampton, and Howard Leese from the late '70s to the mid '80s.
Whether in woodworking, machining, or cast and die work, pattern making is the art of arriving at a perfect standard which can be duplicated or used to create new designs from by "offsetting." All PRS necks came to be as a result of offsetting from this original, Wide Fat design.
53/10 Pickups
The 53/10 pickup is the latest in the series of humbucking pickups that already includes PRS 57/08 and 59/09s (and the smaller aperture 57/08 Narrowfield). First debuting as part of a limited run in the summer of 2010, the distinct 53/10 is the warmest-sounding of the vintage themed bunch. The 53/10 coil wire is made on the same machine that supplied legendary guitar makers in the fifties. Wire specifications for the 53/10 are slightly different than the others and are made using a special process reserved for a single-coil bridge pickup circa 1953; however, the 53/10 is a humbucking pickup. Smith commented, "There are single-coil guitars from that era that are beautifully big, fat sounding guitars." With that tone as inspiration, 53/10 pickups are similar to the original 57/08 but with a "sweeter" high end.
2-Piece Adjustable Bridge
Previously only prototyped on Private Stock guitars, the new 2-piece adjustable PRS bridge now comes standard on 2 PRS models " the SC58, and the JA-15. Bridge specifications include triple-weight saddles, triple-weight thumb wheels, large posts, and extra mass. The added weight increases contact points and creates a more resonant, musical instrument. Machining rather than casting give the brass and aluminum bridge a stronger sound, and the quick-change style stoptail doesn™t fall when the strings are removed. œI am calling it the ˜New 2-piece adjustable sound transfer bridge™"We are very happy, said Paul Reed Smith.
FEATURES
15" body size
Single-cut hollowbody
Carved spruce top and curly maple back with mahogany sides
V12 finish
25" scale length
22-fret bound curly maple 'pattern' neck
Ebony fretboard
PRS 53/10 bridge humbucker
PRS 53/10 neck humbucker
Volume and Tone controls
3-way toggle pickup switch
Mother-of-pearl/paua heart bird inlays
Abalone headstock signature inlay
Ebony headstock veneer
Nickel hardware
PRS 2-piece adjustable bridge
PRS low-mass locking tuners
"JA-15" truss rod cover
PRS hardshell case
Sweetwater
Product Description from Sweetwater
Reviews
---