PS1 Powerstand/Effects/Serial
Serial Effects - Excerpt from the PS1 Power Stand (Classic) / Model I Manual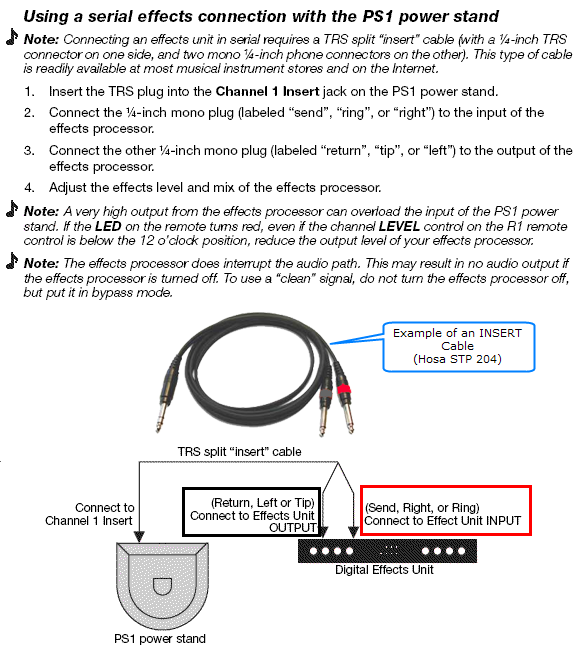 Insert Cable
Typical Insert Cable Hosa STP204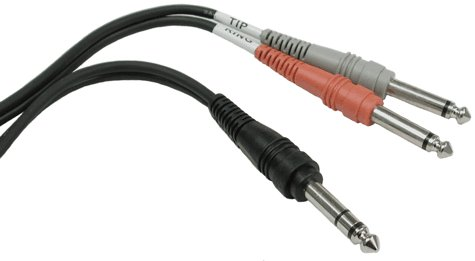 A common problem is with the way some Insert Cables are labelled. This is how the connections are run at the Insert Point of the PS1 Powerstand.
and this is connected to one of the PS1 Powerstand Insert Points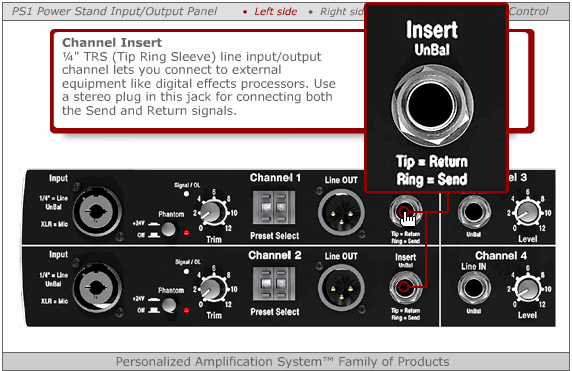 Summary of Lines Out from the Power Stand
PS1 Connections Lines Out
Line Out (XLR balanced) for Channels 1 and 2
post trim (+4 dBu nominal)
Insert Send
post trim,
post channel volume
SPDIF Data OUT
Post trim

Input Trim
R1 Remote Channel volume
Insert returns

Pre

Preset
Tone controls
R1 Remote Master volume.

SPDIF is channels 1 & 2 only.
The Data OUT is a SPDIF output with a sampling rate of 48KHz.
Set your recording software as below if given the options
24 Bit
48 KHz
S/PDIF (RCA)
See: Recording Through the PS1 — Message Board Discussion.
---