Recording USB Dry
You can use your T1 ToneMatch Audio Engine as a the USB soundcard with your computer and record. Here is a quick look at how to send a DRY (without any effects) signal to the computer while retaining any settings you prefer to hear for monitoring or performance.
To record direct from the T1 ToneMatch Audio Engine to a computer through the USB port without any effects you can use the T1 ToneMatch® Audio Engine Aux.
Here is an example.
If your source (microphone or instrument) is connected to T1 Channel 1
Channel 1 - Press CHEdit
Turn the Rotary Selector to Aux
Set Aux settings as shown here.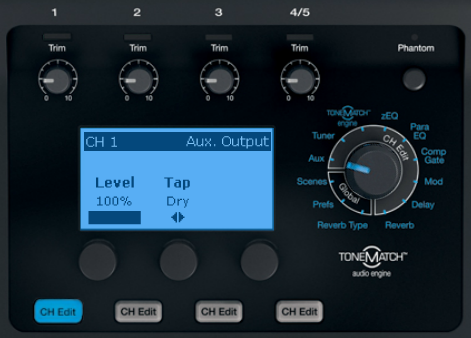 Set the USB to PC settings to send Aux
Turn the Rotary Selector to Prefs
Set the USB to PC settings as shown below
For more details on these settings see: USB
---