Reinventing the Electric Guitar As We Know It

This article is an editorial and expresses the opinion and experience of the author. Please post comments in the discussion page.
Thank you.
I love electric guitar, especially the tone of it. So how come it always sounds so bad at the gig? Get out front and it's ok, but where it should sound great; on the bandstand; it always seems distant and dull. Loud, but not great. We knew that electric guitar would be a major hurdle for the L1, but if we could figure out how to do it, it would be a major benefit for any rock band, or basically any amplified band, period. I certainly knew that the typical guitar amp had really aggressive on-axis buildup of tone from the midrange on up.
Thinking about this, I thought of my old buddy Tony Sarno, who was a National Bureau of Standards Electric guitarist. He had all these tube amps and an ancient Telecaster that seemed part of his physical body. I mean, this guy was totally bought into all the folklore, mysticism and mythology of the electric guitar. He was and is a really great player too. So I figured if we could get the L1 working for him, we were in the clear. What I'm going to describe (pull up a chair and set a while) is one of those life-changing events.
We set up five of the Village Hall systems at the "Cosmopolitan Grille", a local fancy/schmancy restaurant in Framingham that actually had great food. Some of our senior executives knew the owner and we rented it for a day to test the system. It was the usual amplified quartet but by this time I had purchased a good set of Roland VDrums for use with the system. Two systems were used for the Roland drums and they sounded simply great to me. It was here that we learned how limited 2-channel "stereo" was for any instrument. It was very clear that the kit only sounded spatial and full in front of it (between the two speakers). Especially the snare (what else is there anyway?) sounded unclear off to the side. Shortly after this, we started using a mono system for drums with much better results. So, anyway, you can see it was set up for a typical nightclub in a "dinner theater" format. Keys and guitar were on the perimeter (stage right and left respectively) with Jeff Majeau's fretless Renaissance bass next to the drums.
The really importance of this event was the inclusion of guitarist, Tony Sarno. I've known Tony for a long long time. We go way back. He lived in Nashville at the time, trying to carve out a career as a musician and songwriter. So I called him up and said "Tony, you must check this thing out" (being deliberately cryptic). Tony knows I work on the Good Stuff (watched us put in our first US Sound system at the Omni when he lived in Atlanta), so he told me about coming north for a family event and we scheduled a little tryout at the Cosmo, renting the restaurant for the afternoon. Ken gave a little presentation and slide show (precursor to "Music is Human") to a bunch of musicbiz people including Tony, and then we played together to see what Tony's impressions were of the actual playing experience. For guitar, we set up a new Fender Cyber-Twin amp and took the direct output to the L1. And we played a bunch of great tunes, everyone else listening to their first listen to an L1 system in a full-ensemble situation. They loved it and we all played real good. Meanwhile, on the bandstand, something really snapped in Tony's brain. Talking on the phone later from Atlanta, he was wild with ideas and revalations, including using a Roland guitar processor (similar to a Line6 Pod) that "everyone in Nashville" was using for recording at the time.
Later, we did an a/b using the Roland through and L1 proto and (b) a Marshall 50w head and a 4x12 cab with the "right" speakers in them ("greenback" something-or-other). He couldn't tell the difference. This was at a "guitar summit" we held with all these guitar players, the best examples of to-the-core electric players we could find in the area. It was sort of like looking for authentic species on some National Geographic expedition. We focused on Tony, Dave "C" (who plays locally with our buddy Bruce Marshall) and Bob Lituri, who had been playing in my band lately. All these guys had pure guitar-player DNA. Talk to any of them and you'll get all the contents of the Dead Sea Scrolls of Electric Guitar, from the strings to the special cables to the miracle of passing electricity invisibly through a vacuum.
The goal of this event was to answer the question, definitively, if the L1 could in fact be used successfully and happily by hard-to-please electric guitarists. Rather than go on, here's some notes from the event:
As an invitation, Ken and I wrote this email to the participants. Keep in mind that this was a big deal for Ken and I (knowing that the L1 could be used successfully for electric guitar). Also, the system was called "Muzo" at the time. You'll see it referred to as this:
---
From: Henricksen, Clifford
Sent: Thursday, May 16, 2002 1:04 PM
To: Dave Cournoyer (E-mail); Tony Sarno (E-mail); Lituri, Bob
Cc: Jacob, Ken
Subject: Guitar Summit
To:

Dave Cournoyer
Tony Sarno
Bob Lituri
From: Cliff and Ken
Guys:
We believe you each understand the potential of Muzo as the sound-delivery part of a new, "redefined" electric guitar. Bobby, you wrote elequently about this after the Dr. Bose demo. Dave, you seemed to get the tone you wanted at the Village Hall gig (Ken: "I still picture the curtains bursting into flames on Little Wing") and Tony, you've started researching the options for what kind of "direct-to tape" guitar signal processors might work with Muzo. For all your performances, your audiences were totally satisfied. Their applause and response was the clear giveaway. So, we're already a good bit of the way there.
The potential here is monumental and of historical importance. Namely, the idea that EVERY NOTE FROM EVERY GUITAR FROM NOW ON WILL BE HEARD BY GUITARISTS, THEIR BANDMATES, AND THEIR AUDIENCES WITH A CLARITY UNLIKE ANYTHING EXPERIENCED BEFORE. Guitar players will play better. Bandmates will hear the guitar part better and be able to react musically as never before. Audiences will hear the guitar without getting their heads blown off or losing the guitar sound in the fog of triple-system amplification.
This is not a small thing, gentlemen. Rather, it is the beginning of a new era in the electric guitar.
We (Cliff and Ken) are not guitarists, and we can't hear what you hear. We don't know what remains to finalize the marriage between the guitar, the signal processing, and the sound delivery system. We sincerely believe that you do know, individually, and collectively. Closing that gap so that the marriage is consummated, and so that each of you can demonstrate the marriage rather than imagine it, is the task we humbly ask you to undertake. In our minds, success means your ownership of an invention that will forever change, and dramatically improve, the sound of the electric guitar. No change to the electric guitar has ever taken place of this magnitude, in our view.
To do this, we propose a two-day "Guitar Summit". In the afternoons, we propose you work together to get the best tone on MUZO, using anything/everything. We think this should include comparisons to the tone you hear in your "sweet spot" using your favorite amp, processor and speaker combinations. Flipping back and forth between the two systems is an obvious no-brainer. All other methods as of yet unseen are also possible. In the evening, we will play concerts where you can confirm in a real performance environment that you have in fact closed the "tone gap". A backup band (Pete, Jeff and Cliff) will accompany you. The work will be yours, not ours. We will try to be like good servants -- there when you need something (gear, advice, etc), but invisible otherwise.
The first goal of this work is to match the "magic tone" you all hear on your favorite setup, on MUZO. If we/you can establish this tone quality out of MUZO (by using anything/everything), it means you are getting "magic tone everywhere" because of how MUZO delivers sound, instead of magic tone in one spot only (which is what you/not your audiences get from a conventional guitar speaker). This will be a mighty achievement. We can then (all) use this information and methodology to teach the guitarists of the world how to do the same thing with their guitars.
However, there is yet a potentially greater opportunity here. MUZO, after all, is a high-fidelity sound system whose radiation pattern covers musicians and audiences with equal sound. It's like a perfectly clear piece of audio glass. Anything you put behind the glass (the desired sound) is what you will hear. In contrast, a conventional guitar amplifier is analogous to a piece of specially-tinted and textured glass. You can only get a small range of sounds from it because it colors and distorts whatever you put behind it. The recording industry is already on to this opportunity, in a very big way. They are closing in on producing "guitar-to-tape" methods that work convincingly to produce not only traditional guitar tone but as-of-yet unheard, new guitar tones. What do you get when you try to reproduce these recorded creations thru your traditional amp? I don't know, but it's not what you hear on the recording. It's heard thru the filtered glass. As Tony pointed out, if these recording methods work well, they will work well on MUZO. And, as new tone and effects get used and produced by modern guitarists, MUZO becomes the ideal (and only!) means of producing these for a live audience, who came to the show to hear live what they hear at home.
We've already experienced this difference: Bobby and Cliff heard a "clean tone" from Bob's PRS guitar that was way past anything they had ever heard from any conventional guitar amplifier (remember this, Bobby, in the Pro demo room?). Thus, the second goal of this work is to experiment with and begin to catalog a series of "new" guitar sounds which can't be produced on conventional amplifiers due to their "filtering" characteristics that can't be removed. This will be "ground zero" for the new, untraditional electric guitar.
Exciting? We think so. So, let's get to work. By means of email, let's choose a 3-day window to work together in Framingham. Ken and Cliff will make all arrangements, including where to work. This will not be at any Bose facility. A good possibility is in Village Hall in Framingham, where we did the concerts. At any rate, we will get this together. We propose June3-June5 as a target date. Dave has a better schedule early in the week. Tony is flexible and Bob has to arrange with his work schedule. By means of email, let's get started. Either accept this as a "go" or propose another date.
---
So, we held the event on 3 and 4 June 2002. Here are my notes , sent afterwards to all the participants:
---
Guitar Summit Notes By Cliff Henricksen 4 June 2002
This is an off-the-top account of the events of 3 and 4 June 2002 and resultant fallout of, in and around the Guitar Summit workshop and concerts at Village Hall Framingham MA.
Participants were guitarists Dave Cournoyer, Tony Sarno and Bob Lituri. The principle focus of these events was to identify major issues facing MUZO's use as an electric guitar delivery system and to solve them as best as we could so that all the guitarists could comfortably perform in the evening's concert with a tone they love. We were successful in attaining this goal and the concerts were satisfying, in a really big way, for all musicians as well as for a very appreciative and responsive audience. Also playing were Jeff Majeau on bass (fretless and fretted basses), Pete Premo on drums (Sonor "acoustic" kit and a tweaked Roland VDrum concert electronic kit) and Cliff on keys (General Music Pro2 Real Piano and Roland VK7 Hammond organ/leslie modeling keyboard). We played 2 sets of 7 songs lasting about 35 minutes each and musicians came and left the performance area as needed. Here is the setlist of songs:
Set 1 Norwegian Wood (D) Bob sing Christmas Blues (G) Cliff singer/composer Mustang Sally (C )Tony Sing 7x7 (A) Dave singer/composer Blue Shadows (C ) Tony sing Cold Shot (A) Dave Sing Voodoo Chile (D) Tony Sing
Set 2 America The Beautiful (E) Tony sing solo I'll Be There (Gm) Bob sing Something You Got (G) Cliff sing Absolute Zero (D) Dave singer/composer Statesboro Blues (A) Tony sing When a Man Loves a Woman (C) Tony sing Little Wing (Em) various singers
The 3 June concerts were a bit loud for portions of the program, especially for guitar leads (if you can imagine) and vocal leads. Part of this (I think) had to do with the use of a standard "acoustic" drum kit. Plus, we were all in the process of learning how to play through the system together, all having never played together as a group. Ken was in the audience and helped to direct us re: level and so forth. Rehearsal/sound check to run over intro/end of tunes and various details were disconcerting as everyone was still getting used to the whole setup and each other as players. At one point, Tony pointed out that we were all fighting each other and that we should all listen more and play to the vocal or solo. This helped. Also, the whole idea of having 3 electric guitar players on stage at once could have easily been construed as "impossible", given the (well-earned) reputation these "notoriously-loud" musicians have in general. In this case, we had 3 guitarists with totally different playing styles who quickly recognized each other as an expert in their genre. A tone of mutual respect and appreciation was quickly and organically established and the "nuclear meltdown" some would predict turned into an electric atmosphere of the best electric guitar tone and playing I can ever remember, from either a listener or a bandmate. For me, it was a thing of beauty.
After the first show, Tony commented on how this system "makes you dig deep". Amen, brother. The whole experience of hearing and knowing that every note and detail of your playing that you hear on stage is what everyone else in the room hears is profound. When showtime comes around, there is no where to hide. This situation leaves you naked and open with only your music to wear as clothing. We know that MUZO can get very loud. However, hiding behind sound level will only succeed in driving your audience away. Saying this and realizing how MUZO gives control to the musicians, it really comes down to being a matter of respect and consideration for your audience. Do they want to get hammered? My guess is "no". So, you either leave the bandstand or you can dig down and pull out your best. There doesn't seem to be any middle ground here. I believe that the MUZO system will truly make better players out of all of us, and it will (I predict) make those who won't or can't respect their audience either go home or, more probably, be whining, vehement dismissers of the system.
And so, anyway, it came to pass that when showtime did come around, we all did our best and played as a real band. (My conversation with Dave: "Sounds like real music to me, Dave". "Sounds like a real band to me") The second (Wednesday, 4 June) concert was second to none, all of us having discussed dynamics and the act of supporting the soloist (vocal/instrument) and generally playing softer. We also used the Roland VDrums exclusively (instead of Peter switching back and forth as in the first night's concerts) and I think this helped a lot, as the drums always seem to drive any band's sound level. Wednesday's second set was a fabulous moonshot. Those who were there know and those who weren't missed a rare musical moment. I know all musicians live for these rare moments and many keep playing (in spite of all the adversity) so that they are around when the moments do come. "Magic music performances" are not a common experience thus far. Much of it is an annoying and grimy one. However, I don't think it is a coincidence that this all happened during out guitar workshop concerts. I think that all our instruments, for the most part, sounded fabulous to all of us and the naked, intimate connection with the audience inspired us and made it all possible. Of course, the fact that every musician on stage was an exceptional "team player" helped a lot. Personally, I think this is a prime ingredient of "playing" anyway. But the system, the sound and the situation brought us (and the audience) all together into the same "bubble". For me it was one of my happiest moments as a musician and I heard some of the best playing and juiciest, most soulful electric guitar playing and tone ever. I felt very fortunate to be there.
So, anyway, back to the guitar workshop: I think the best way to organize this is in the form of an outline by player in order of activity. We started with each player's traditional or favorite setup or rig as a listening reference and then went back and forth to the MUZO to compare tones. Here's the scoop:
1. Tony Sarno
1.1. Traditional setup
1.1.1. Guitar: Fender 1955 Telecaster with George El signal cable (Tony says this cable is an "essential" part of his sound and I want proof of this some day)
1.1.2. Amp: Naylor 112 35w tube amp driving a 4x12 Marshall speaker system with 35w "Greenback" Celestion Speakers
1.2. MUZO Setup: Roland VG88 "Virtual Guitar" guitar-to-tape processor and direct box
1.3. Procedure: We all listened to Tony's tone in his "special spot" onstage and then walked the room out front, noting the "alley of doom and distruction" directly in front of the 4x12 and the "far away" sound off to the side. Then we plugged in the Roland VG88 which Tony had been programming the previous week. He tweaked it a bit, we fooled with a 1/3 octave EQ (Dave took over this) and flipped the in/out on the EQ. It took very little time for Tony to say "turn off the EQ, I'm done, this is great, let's play". I mean, for the wire and tubes and papercone guy I know, after all these years of electric guitar esoterica, to say this and, yea, completely flip into the new millennium of electric guitar, I for one was floored. I'm looking Tony in the eye, with his Tele strapped on and loving the bath he was getting in sound and I knew it was true. Next:
2. Bob Lituri
2.1. Traditional setup:
2.1.1. Guitars: PRS Custom 22 (22 fret) solid electric w/Dragon pickups, Gibson 445 semi-hollow guitar
2.1.2. Peavey Ultra 120 head, lots of pedalboard toys, 2: Marshall 1x12 cabinets with Celestion GM70 12" cone speakers.
2.2. MUZO Setup
2.2.1. Initially, a Digitec
2.2.2. Fender CyberTwin amp, muted via headphone jack, using line out
2.2.3. Last: Using direct out of the Peavey into an equalizer and then into the MUZO
2.3. Procedure: We tried the Digitec first. It sounded really poor and lifeless and dull, so we discarded this instantly. Then we tried the CyberTwin, which Bobby has had experience but not happy success with. He never liked it much, even with Dave lending help with EQ. Last, we tried Bobby's "line out" from the Peavey head and he was back on the page. Some more EQ (rolling off the high end and some mid bump/cut, recorded on Buz's camera and done by Dave) and other EQ made him happy. This did it all. Bobby was ready to play. This actually took some doing and Bob ended up being our toughest customer. The Peavey-direct setup got his system to "talk to the guitar", which meant some feedback in the right frequency range, so he could get the right or familiar sustain afforded by the feeback.
3. Dave Cournoyer
3.1. Traditional setup:
3.1.1. Guitar: Reverend Avenger, 1996 Fender Stratocaster/Barden pickups, PRS Standard 24 with Barden pickups
3.1.2. Amp: Paul Rivera TBR1M head, Lexicon MPXG2 processor and 2x12 vertical "ADA Split-stack" cabinet with 2: Celestion/Rivera oem GT80 speakers.
3.2. MUZO setup: output of Lexicon directly into the MUZO via equalizer, using the Lex's internal "speaker simulator".
3.3. Procedure: Dave was already onboard, having used the MUZO a number of other times, so his setup was almost done before we started. He seems able to work with anything he is given (but I think he is thus far most comfortable with his 2x12 setup). Frankly, we spent very little time on Dave's setup because of this, and also, I think, because we were all very ear-weary having listened to guitar for many hours on end, in steady concentration. I for one had to leave the building for a while because of this. Also, Dave ended up mostly helping Tony and Bob with their tone and was a very valuable guitar tech and tonemeister for them and for the entire workshop. (Ken and I really appreciate your work on this, Dave. Thanks again). Dave and I worked together on an audible lowmid bump in his system, which he illustrated by showing me how certain notes stuck out on this guitar, thus using the guitar as a realtime analyzer. Soundmen take note. We ended up cutting 250 a bit (3 or 4 dB) and Dave was happy.
Thus, we were ready to play our evening's concert. We cleared the stage of all the other gear and got ready. The second evening, we were fully prepared to strike all the guitar gear as both Bob and Dave were convinced they could do it with VG88's. Unfortunately, the units promised arrived far too close to showtime for anyone's comfort, and we reverted to the previous evening's setup, Tony with VG88 and Dave/Bob with their stack 'o stuff. These were off to the side and everyone paused to admire the very clean and fresh look of the stage: Just musicians and musical instruments; what a concept.
4. General other comments and flotsam/jetsum from the workshops
4.1. Dave identified what seems to be a characteristic of the MUZO (MA12/MB4) in live performance: a 200-250 Hz bump in output. He was the only one of us bothered enough by this to insist on fixing it in his rig, but it has come up often enough, especially with bassists using MUZO, to make me think this should be a feature of the product: Either a notch filter at 250 or so (we can test with instruments to get closer) that is switchable or possibly a permanent part of voicing of the system. If it was switchable, I think it should be called "room", because this is a common room mode that is particularly annoying. A sweepable feature might also be useful, 200-400 Hz. This is a very familiar frequency range in a wide variety of rooms and small venues. It pops up a lot.
4.2. I have known Tony for many years and have had endless conversations with him about guitar tone and the "necessity" of tubes, certain cone speakers and the whole electric-guitar-culture "thing". Of course, virtually every guitarist worth playing with that I have ever known has had a very similar experience and has followed a similar path. So, it's not a myth. This is a real thing and I know it. Tony is a real traditional simple-is-best, no-frills rock and blues player. He sees and knows this instrument as a very simple, organic acoustical instrument. Probably the biggest result for me of the entire event is that Tony unconditionally pronounced that "this (VG88/MUZZO) is an amp". This means not a processor or a guitar-to-tape converter but a real guitar amplifier in the truest sense. He made the leap almost instantly purely on the sound of it, but he also is totally and completely aware of how it puts him as an artist in total contact with his audience.
4.3. The VDrum worked great and sounded like a studio whereas the normal kit created a lot more reverberation and could get a lot louder. Pete had a lot of fun jumping from one to another during the first night's concert, but this also gave everyone a chance to listen to both. For Pete, it gave an excellent and possibly priceless opportunity to compare both during a live show. Here are everyone's comments:
4.3.1. Cliff (moi): I already know, from playing the V's myself, that there is a lot more "resolution" to a normal kit. This is probably a common first-reaction of any drummer, especially in the snare and cymbals, both in terms of output level and variety of tone and timbre. Because Pete's normal kit was on the far side of the stage from me, it sounded "distant" and on one tune especially it was hard to lock in and groove. Bob, standing in front of me, had a similar comment. For me, the Vdrums sounded fresh, controlled and pleasant and just the right level. Out front it did too. I think the issue for the drummer is the same as it is for me and piano/organ. Playing a real piano is a really different experience than playing an electric such as I have, with all these different "common" keyboard sounds on it like grand, Rhodes, clav, etc. It's a different instrument, but for the audience, it's a very acceptable illusion, which is what all this stuff is anyway. The same goes for Hammond organ and a Leslie. There's nothing to compare with the sound of a B3 getting thrown around the room by a bunch of rotating waveguides. But the Roland VK7 is really pretty acceptable substitute, especially in that it goes into the trunk of the Mini Cooper and the B3/Leslie goes into the moving van. So, while most keyboardists, and recently guitarists, have had experience with "acceptable illusion devices", drummers have had nothing for live playing. Yeah, the VDrum and the like have been around for recording, but onstage all you get are very annoying monitors. The VDrum/MUZO combo is basically the only game in town right now and Pete is the first drummer to play it in public. It does take some getting used to and I think that tweaking it for live use, especially re: dynamic response, will make a big difference, tho never replace the "real thing", similar to grand piano and B3/Leslie.
4.3.2. Pete: (I'll just drop in Pete's email on this subject) "I finally got past my V-drum prejudice (at least for now). They are a different instrument than a kit. They will never be a real kit and likewise a real kit will never be V-drums. But they both have their advantages. If I accept them for what they are, my attitude changes and my playing improves. Talk about ego...I had more people come up to me Wednesday night and tell me how great I played (this doesn't usually happen). I played no different than I ever do. Therefore I have to suspect the V-drum/Muzo set up is what made the difference. That in itself is enough to even make me consider using this as stock equipment in the BMG. A week ago I never thought I'd be saying that. Now when someone asks me which kit I like better I'd have to ask them to define what they mean by "better". On Tuesday night I actually did a real live A/B on stage in a concert setting. The hall is VERY reverberant. The Sonor kit had a lot of detail, seemingly infinite dynamic range and variable timbre could be achieved by how the drum is struck. It felt very comfortable to play because I am so used to it. They sounded "real"....because they are. Best of all, the real cymbals are just full of tone and can provide hundreds (thousands?) of sounds and can be instantly changed by using mallets or brushes. But on the downside, the default volume at comfortable playing was very loud for this setting. The drums reacted totally different in this environment by exciting all the room remembrance thus clouding up the presentation and making them less clean and distinct.
The Roland kit, however, is very restrained to a relative few sounds per drum. Although the sounds can approach the real thing, they never get there (perhaps someday, but definitely not now). BUT ....combined with the Muzo the room was tame. They sounded clean and the volume could be adjusted externally so I could play at a comfortable range without making everyone else turn up. The guitar players LOVE the fact that they won't have a crash cymbal in their ear. The dynamic range was frustrating, but I still think I can improve that a bit by tweaking the triggering adjustments. The cymbals are functional but still a disappointment. Roland does have a cymbal upgrade. I suggest we try it. And above all, the other musicians and the audience members loved them. Forever the skeptic, I don't know if I will have the same experience in rooms where the Sonor's usually sound good."
4.3.3. Bob: Real drums were "real good but far away" VDrums "not as dynamic, could be louder, not balanced within the instrument (toms, snare, etc)"
4.3.4. Tony: Try mono, which should be fine for most drummers (more on this soon). In the "big scheme", VD are not like drums, not dynamic but more like in a studio. This could be a "tough sell" for drummers because "there's nothing like a great kit"
4.3.5. Dave: Need more samples. A live snare is "omniphonic" and the VD lacks "whack" in the midrange. Dave prefers live drums "hands down".
4.3.6. Ken: Acoustic drums are great but too loud in many instances. This makes the music overall too loud. Cymbals were too loud in the VD.
4.4. Vocal processing: Tony had "PK" from Guitar Center bring in a total boutique of vocal processors, preamps and direct boxes, mostly for his vocals. The fave was the API 7600, which includes preamp, EQ, comp/lim and other typical vocal processing. He also used some kind of delay (Tony: fill this in. I didn't note the delay). This might be a good reference for listening to the quality of the production MUZO mic preamp. It did sound smoother than the Behringer mixers we were using, but this could simply have been a smoothing due to compression.
4.5. Mono/stereo: At Wednesday's sound check, I noted that Tony's vocal was in "stereo", which was really "dual mono" or the same signal coming from his two MUZO's on either side of the VDrums. I said "bingo" and panned the vocal to the nearest one. Voila: big bang for the vocal. I think this is part of the problem for the VDrums, especially kick and snare. So, next time, we will put these either in L/C/R stereo or, simpler/better (Pete's suggestion) in mono. Mono: what a concept. Everyone hears everything. I like the ring to this somehow.
4.6. Musical Perspective for virtual instruments: This is my opinion. I think all this virtual instrument technology, especially "guitar-to-tape" processors have come of age. It is an interesting "lineup of the stars and planets" coincidence that this is happening at the advent of MUZO, which is electric/electronic music's first useful delivery system. This allows the player to deliver a truly acceptable illusion to what seem to be truly accepting and appreciative audiences. But it does require the player to give up their (familiar and comfortable) personal experience on their "acoustic" instruments (piano, electric guitar, drums) and play a new instrument that is close but not the same, for the "common good". I think that players who refuse to give this experience up and who insist on having their personal experience unaltered will not embrace MUZO. I'm also, in effect, saying that those who focus on their instruments will be less likely to embrace MUZO and those that focus on the music and on the benefits of a "new" and better instrument will be most likely to embrace MUZO.
5. Conclusions and recommendations for future work/MUZO definition
5.1. Electric Guitar: done. I will include results of this workshop in the evolving "MUZO User's Manual" which I am writing.
5.2. Electric drums: A start. I can easily include recommendations and suggestions for drummers' use of MUZO in the user's manual. We have to try mono and better tweaking for the next all-MUZO show.
5.3. Vocal: same as drums.
5.4. Overall: Much of this can be put into the users' manual. My main purpose of said document is a storehouse for our work to date, for any use (ads, website, other copy, real user's manual, etc).
5.5. Overall output: Way beyond our expectation. God will reward us. Be patient.
---
Ken and I were ecstatic. Basically the L1 had reinvented the electric guitar, using the emerging technologies of nonlinear electric guitar modeling and simple good old sound engineering. With the L1, we had truly authentic electric guitar tone, but none of the "different sound for everyone" qualities of a typical guitar amp. We knew it would be an uphill battle, seeing as electric guitarists are a very conserviative bunch and hard to please (and reluctant to abandon the Church of The Amp). But we knew we had it. We could, with great confidence, tell the world that The New Electric Guitar lives!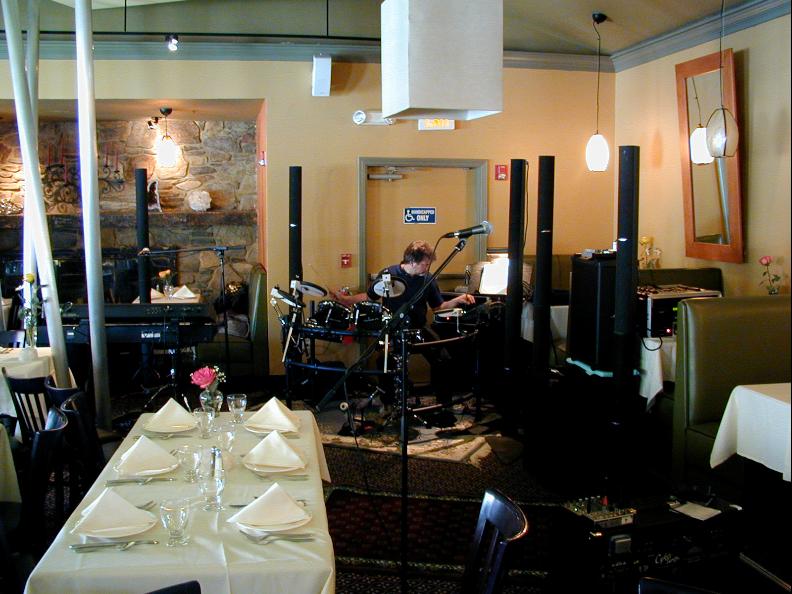 This is a photo of Craig Jackson's band in the "Monster Lab", a large area for use in developing large systems for Pro Engineered Sound products. This was after hours, a good idea seeing as Ken and I measured 120dB C scale in front of the band. We had to leave. But we also knew it could be used to play "too loud" (or "just loud enough" for some ). Not our cup of Earl Gray, we nevertheless knew it needed to do this for a significant number of bands. And we needed to be able to say definitively "yes, it will rock". When you know something like this first-hand, it's amazing how little question you get on making such a declaration. Somehow the "I was there" part gets attached and the recipient of this statement can hear it and know it's true. This is the major reason we had to develop the L1 with our own hands on the throttle. About the only negative reaction to this particular test came from Craig, who said "I can't get away from my guitar sound". Ken and I were fascinated, until we finally knew what this meant. You see, rock and metal players normally have a single or double 4x12 stack. The sound in front of these things is like an air-raid siren. I guess it's fine for the audience (poor devils) but you really can get a much mellower exposure off to the sides. You see, these death-ray boxes are so large that they develop their maximum bone-drilling tone right in front, like a fire hose full of burning oil. Off to the side it's mellower, so the guitarist goes there to hide from the holocaust of guitar death. Have I gone on too much here? Sorry. Please forgive me.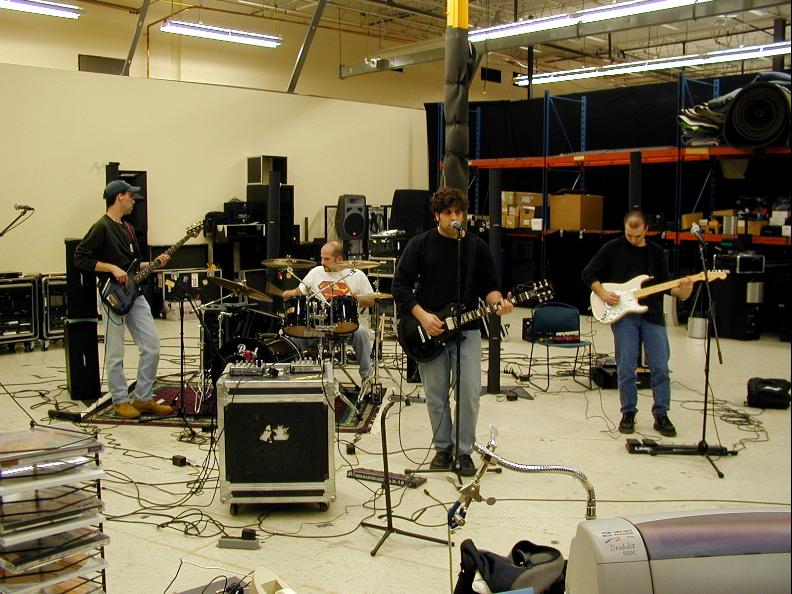 These guys were great, rocked. This photo is poignant for several reasons. They really liked the system and sang great together. I don't think the drummer was totally wild about the Roland kit and we have given up this approach in deference to a real acoustic kit with some minimal amplification, notably the kick drum. But this photo is taken in the old cafeteria at the Res, where pro and Live Music is situated. Today, the ceiling is 22' tall (drop ceiling removed) and is our Live Music concert hall and development area, complete with stage, a full drum kit, a full set of keys, ready to plug and play at any time.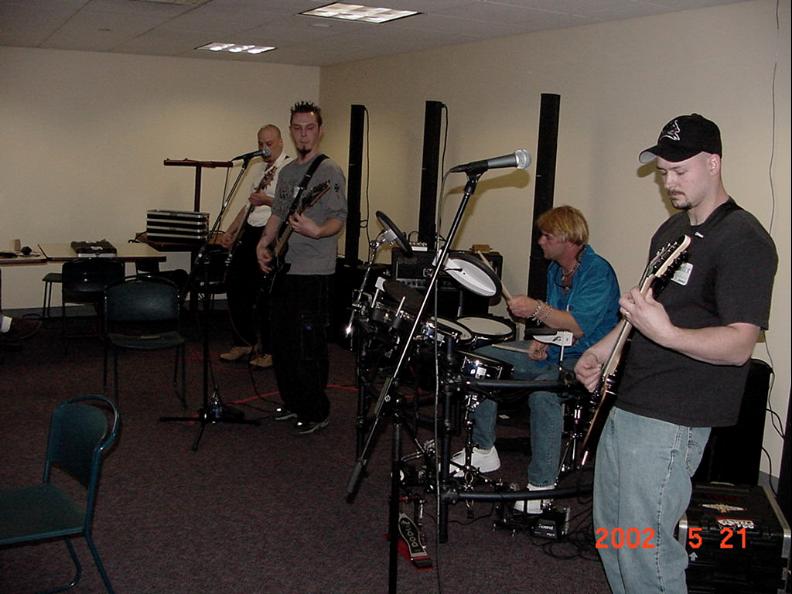 ---