Shure 55SH Series II Vocal & Speech Microphone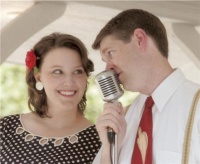 There aren't many of us here using this microphone with the L1 System, but for any curious folks on prospective performance, let me tell you about the Shure 55SH Series II.
This design is based on the smaller version of the classic Shure mic. Sometimes called the "Elvis" mic, it has the smaller body as seen in pictures of the acclaimed artist, and with me to the right of this text.
I have not read anywhere exactly what the guts of the microphone are patterned after. That is, it's been said that it is very similar to Shure's industry workhorse, the SM58. In direct comparisons I have made, I would have to agree with this assumption. Using the SM58 preset on my L1 Classic's powerstand has yielded good results, and for the beginning 55SH II user, I would recommend this preset. I have also used the Shure Beta57A preset, and I like that when I want to sound a bit thinner (to my ear). For me, it harkens to a bit more "old-fashioned" sound, but it has also been helpful in rooms where the vocal needed to cut a bit more. At the last (as of this writing) L1 User's Conference in Little Switzerland, North Carolina, I took advantage of the custom preset clinic offered by Mike Zartarian and Cliff Henricksen (MikeZ and Col. Cliff, both "at-Bose"). Embarrassingly, I forgot my 55SH II; left it behind in Illinois! We used a Shure Beta58 in lieu of my forgotten mic, though, and got great results, in my opinion. The preset really sounds fantastic with the 55; is even MORE me. We all know how naturally-reproduced our voices are using the L1, but with a custom vocal preset, it is really, really fine.
Those familiar with the voicing of the L1 presets and associated microphone techniques understand that close, close, close is the way to go. This is even truer when using the 55SH II. The sweet spot, as it were, is so very small, and any variation in the microphone/mouth relationship will be severely noticed. This doesn't mean that you are glued to the microphone and must be still, but it does take, what I would consider, a more practiced technique. Given that the microphone is already (traditionally) stand-mounted dictates a technique different than what the hand-held user is accustomed to. But it is especially effective in acts doing music from the 1930's through the 1960's, and in a way becomes another band member or at the very least, your instrument. It certainly is an integral part of my show, and I honestly have a difficult time using a more traditional (by today's standards) microphone, either hand-held or in a clip on a stand.
For anyone considering using the 55SH Series II from Shure with their L1, I hope this has helped shed some light on a bit of the quirkiness you might encounter. Feel free to contact me through the Musician's Forum if there are any other questions I might be able to answer.
BabyBlueEyes
---