Sloped Seating Wedge-a-rama

Our company's (400 seat) auditorium has sloped seating down to a lovely wood stage (or "bandstand", from my perspective). It's a really great room, actually Ken Jacob's work using Auditioner, in collaboration with outside architects, etc, another long story. We often have concerts there, including fancy big-name artists and so on. And so, we have wondered about doing shows using just our Personalized Amplification Systems (TM). Just before we went off for our Euro-launch shows in Germany and Holland, I did a test using one and two systems with Tony Sarno playing an acoustic guitar and singing. I used some wood tilting wedges to "aim" the system(s) up at the seating, basically the same angles as the seating rake. We tried two systems; one for guitar and one for voice to see if this helped with separation-induced clarity (cocktail party effect). Everyone felt the single system was more natural. Basically, this setup worked great, all the way to the top. As we moved the system "way" back from the seating, you could get to a point where you started to lose a little high end in the first row, as the (tight) pattern went above ear level. Other than this, it's cool. Stay tuned for reports of shows using this approach, possibly this fall (fall already? Only one year since product launch in the US? unbaleevable!).
Anyway, here's some pix of how this looks: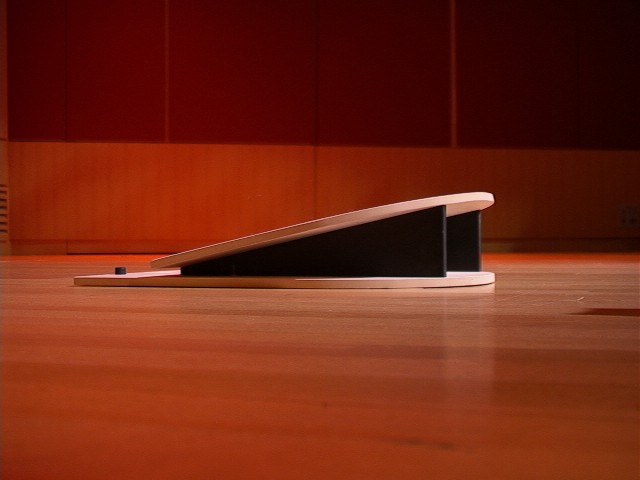 Here's the system aimed up: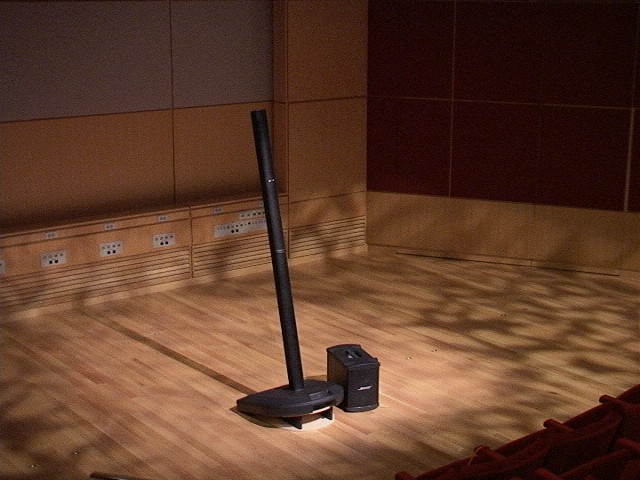 Here's an update on the "tiltarama" discussed in this thread. We did a real live Linemen concert in February in the same auditorium mentioned here. It was the first time anyone had used the system in a large ensemble. I made 5 extra (we have 2) tilt-stands (much simpler versions than that shown here) and so we had a total of 7 systems onstage. It was the normal band along with pedal steel monster John Heinrich, Tony's buddy from Nashville. (what a great instrument, especially played by a master like John) From my perspective as keyboardist, it actually sounded similar to most shows we have done together, but the bass was way more defined, as in kick and bass guitar. I think it's the room and a lot of people. Wolf brought out some lovely old Fender that everyone loves. Marty used the standard kit we use for all our shows. The room was packed (350 or so?) and many afterwards, especially Dena Knop from Bose who actually booked the band, said it was the best-sounding live show ever done in the auditorium. We never did a report on this show, but here it is. I can probably get Ken Jacob to add the odd comment. I know there are pichz but not at the moment.
Just a note of caution here: any non-standard use of the product, including tilting, must be done by a licensed stage technician, who can guarantee its safety.
— source Ken-at-Bose
and more from Ken-at-Bose
Here's a picture of The Linemen at the gig Cliff refers to. I am sorry that I could not get Cliff in the shot (you only see his very capable hand). John Heinrich is on tenor on this tune.
It was a blazing performance with the audience leaping to its feet at one point (after the a searing rendition of the late great Lloyd Glenn's "Blue Shadows")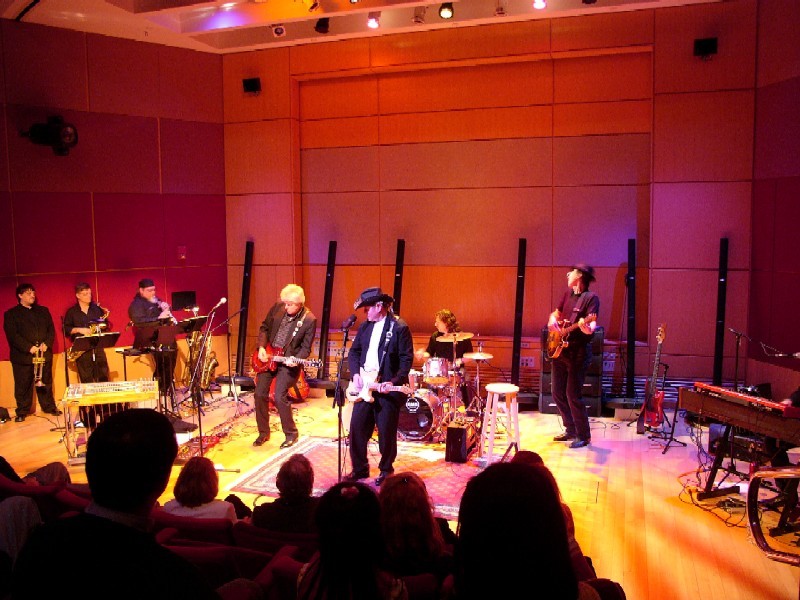 The text in this article originally appeared in the Bose Forum — Sloped-seating Wedge-a-rama

More like this: Clifford Henricksen / New Kind of Recording
---