Stage Layouts / ST Duo Classic / Model I
This is how we set our stage as a Duo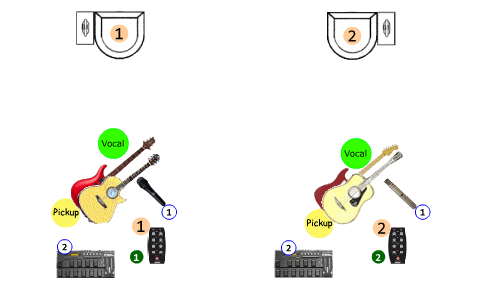 -- click image to make changes to the live version --

Codes:

Orange numbers are Systems and Inputs using those Systems.

Blue ringed numbers are Channels on the Systems.

Green numbers are for general notes about the Sketch and connections to non-Bose gear.



System 1:
ST on the left
Channel 1: Vocal Neumann KMS105 Preset V2.0 #12 Neumann KMS 105
Channel 2: Morgan dreadnaught with Fishman passive Under Saddle Transducer (Piezo) Preset V2.0 #90[1] (Taylor ES Dreadnaught Fingerstyle)
Notes

Fishman Under Saddle Transducer (Piezo) passive.

Direct to a PUTW Power Plug preamp or
Short cable to (an old Trace Acoustic) preamp or
POD XTLive (mainly for tuner and volume)
System 2:
LK on the right
Channel 1: Vocal AKG C1000s Preset V2.0 #04 Vocal Mic Hi Gain "Normal"

Channel 2: Larrivee dreadnaught with B-Band Under Saddle Transducer (non-Piezo) with A series onboard preamp Preset V2.0 #40 Acoustic Guitar with piezo pickup through a PodXT and Shortboard



Depending on the what else is going on at the gig, we will both run our Line6 processors without amp models. This results in a clean sound.

We can add digital effects (minimal) if we think its appropriate.
I usually run Bose Version 2 preset 35 (Paul Reed Smith Custom 22) with the XTLive, if I'm going to be swapping from electric to acoustic. If the whole night will be "acoustic" I will use Version 2 preset #90[1] (Taylor ES Dreadnaught Fingerstyle) This has worked extremely well for us, and when there are guest artists it is simple to get them plugged in and going. If we're doing an open stage session, then we usually move the Systems inward a little bit, and angle them outward a bit. This tends to reduce / eliminate feedback issues. We don't have to do this because we're both well accustomed to staying on the mic. For people less experienced, we have to turn up the volume on the mics. This in turn raises the likelhood of feedback. So we offset that by adjusting the angle of the Powerstands.
---