T1 ToneMatch® Audio Engine / USB
T1 

Connection from Computer to T1 ToneMatch® Audio Engine
Here is an excerpt from the T1 ToneMatch® Audio Engine Owner's Guide (62 pages)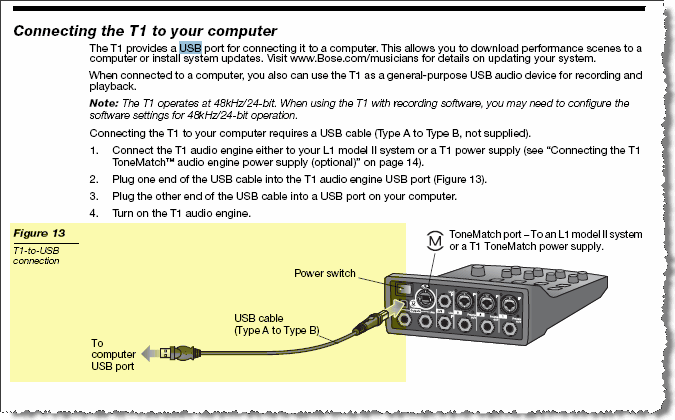 Here is a close up of the ends of the cable.
Live Application of USB in the T1 ToneMatch® Audio Engine
Hilmar-at-Bose talks about the USB interface[1]
Firstly, the T1 ToneMatch Audio Engine is designed as a convenient and powerful interface for a live musician. We try to put many useful controls directly at your finger tips so you can operate them while your playing or between songs. This basic idea has also influenced how we've implemented USB audio streaming. We try to accommodate the most common use cases (background tracks, DJ, quick recording) with the least amount of hassle & configuration work, even if that makes less common uses cases more difficult to accommodate.
USB audio in general
Hilmar-at-Bose talks about the USB interface[2]
When you plug in the T1 ToneMatch® Audio Engine into your PC it will appear to the PC as a USB sound card (USB audio device in Windows). You can play and record audio just like with any other soundcard, i.e. if you use for example Windows Media Player to play a song, the audio will be routed via USB to the T1 ToneMatch Audio Engine.

On the T1 ToneMatch® Audio Engine you can decide where you want it. You can route it either to the master (e.g. when using the PC to play background tracks) or into channel 4/5 to process it to your hearts content.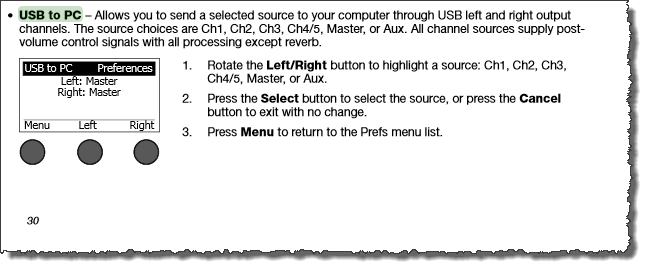 The T1 ToneMatch Audio Engine can also send audio back to the PC. You can select what you want to send. It can be either channel (1,2,3,4/5) or Aux or Master. For example you can make a little submix on the AUX bus and record that with for example Windows Sound Recorder or Audacity.
Here is an excerpt from page 30 of the ToneMatch® Audio Engine Owner's Guide
USB from T1® to PC (Computer)
USB from Computer
USB from PC to Master
The factory setting for USB from PC is to route the Computer's Left and Right Outputs to Master Output and you control all of the sound from the computer.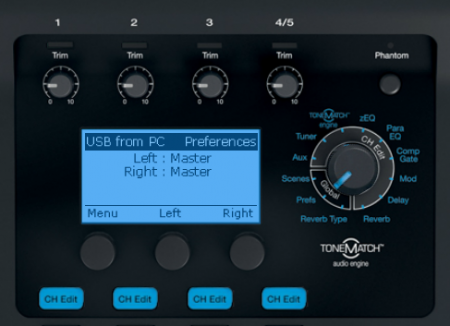 You can route one or both channels to Channel 4/5 and this gives you local control of Presets, zEQ, ParaEQ, Effects and volume.
Setting USB from PC to Channel 4/5
You can connect your Computer to your T1
®
and send one or both stereo channels to to Channel 4/5. This allows you to control the sources applying
ToneMatch®
Presets,
zEQ
,
ParaEQ
, Effects and volume using the Channel 4/5 Vol control.
Video
Step by Step
---
Monitor input levels
Turn the Rotary Selector to Global section and Prefs
Press the first button, Menu

Turn the Menu to Input Level.

Press the first button to view the Input Levels

USB and Channel 4/5 Analog at the same time
You can connect the USB input to T1® Channel 4/5 for a stereo source (computer) AND an analog input to T1® Channel 4/5 at the same time. While it is unlikely you would play both sources simultaneously, you can raise and lower the outputs at the source. This allows you to control the sources applying ToneMatch® Presets, EQ, and volume using the Channel 4/5 Vol control.
See: Settings USB from Computer to Channel 4/5 (above) for USB setup and Analog Connection below.
Analog Connection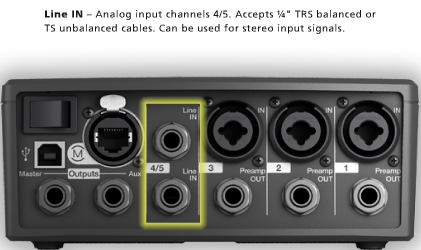 Latency and Digital Audio Workstation
USB audio requires a fairly complicated driver stack and hence we have decided to operate with the Windows standard drivers. That's fairly rugged but also not particularly fast, so processing sounds in real time on the PC and sending back to the T1 may or may not work depending how the computer is configured, what operating system is running, and what other processes are going on at the same time. See also: Latency and The L1®
Digital Media players and USB host
The T1 ToneMatch Audio Engine is only a USB client and requires a USB host (= PC). That means you cannot connect an MP3 player directly to the T1 digitally. The best way to connect is analog through Ch 4/5.
Stereo or Mono
Hilmar answers [3]
Tom Munch asked: Can channels 4 & 5 be assigned separately to the Aux & Master outs to send to 2 L1's?

Not really. 4/5 are immediately summed to mono and treated the always the same. You could route the left USB channel to the master, and the right USB channel to 4/5, turning the 4/5 channel volume all the way down and using a pre-fade AUX feed for 4/5 to get it out the Aux.
That's certainly a little convoluted but would enable you to route a USB source to two different L1s.
No Reverb from USB
From page 30 of the T1 ToneMatch® Audio Engine Owner's Guide (62 pages)
Work Around
Hard wire Master Output to Channel 4 input
Channel 4 Aux Level 100% | Tap: Pre
Channel 4 Vol off (Mute too to be safe but not critical)
Prefs: USB to PC set to Aux
Source: ST discussion in the Forum
ASIO
From Chuck-at-Bose
I'd like to offer some clarification that may or may not help. Sound cards, including the T1, depend upon 'drivers' to do what they do. ASIO/WDM/MME aren't really drivers, but driver access protocols. ASIO usually results in the lowest amount of round-trip latency (all things being equal) because, unlike the others, it bypasses the operating system (e.g. Windows) kernel...
FWIW, I have used the T1 very successfully for recording and playback with SONAR 8 PE on my PC using WDM and ASIO. I got the best results (lowest latency, fewest dropouts, etc.) using ASIO4all. Given the zillions of variables among hardware configs, operating systems, etc., your mileage may vary. I think it's worth stating that the T1 excels as an interface for an L1 system and though it happens to work great as a basic sound card (record/playback/re-amp, etc.), there are lots of soundcards out there that do more than these basics. Their value, in my experience, is commensurate with their price tag...
'Hope this helps...
Chuck [4]
USB Controller (Master) / Controllee (Slave)
USB is structured to have a controller (called a Master, Type A connector, usually a computer) and a multitude of controllees (called slaves, Type-B or Mini-B connector, i.e. T1 ToneMatch Audio Engine, Zoom H4, USB Sound Card, USB to Blutooth adapter, etc). The controllees cannot communicate with each other. A Bluetooth adaper and T1 ToneMatch® Audio Engine are in that category they will not communicate unless one or the other makes a major hardware/software change and adds the capability to become a master.
— Adapted from this post by TRoberts
---