T4S USB A
Attach a USB Type-A flash drive to play any WAV/MP3 files stored to the flash drive.
Turn the Rotary Selector to Prefs, then in the Menu select USB A Playback
Using the menu, select the folder that contains the WAV/MP3 files; select the file you want to play, and adjust the level by rotating the Level control.
Note

Routing settings for USB from PC are also applied to USB A playback. See USB B from PC below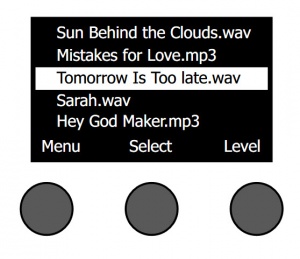 USB drives Bose has tested with the T4S and T8S ToneMatch mixers
Verbatim Nano 8GB - USB 2.0 (49820)
Toshiba TransMemory 32GB U303 - USB 3.0 (THN-U303W0320E4)
SanDisk Cruzer Blade 64GB - USB 2.0 (SDCZ50-064G-B35)
SanDisk Cruzer Blade 32GB - USB 2.0 (SDCZ50-032G)
SanDisk Ultra Flair 16GB - USB 3.0 (SDCZ73-016G-G46)
Intenso Alu Line 16GB - USB 2.0 (specific model # unclear)
PNY 64GB - USB 2.0 (FD64GATT4-EF)
Kingston DataTraveler 50 32GB - USB 3.1 (specific model # unclear)
PNY Attache 16GB - USB 2.0 (FD16GATT03-GE)
---
The following devices have been reported to work by T4S/T8S owners.
Sandisk Extreme 64Gb formatted FAT 32
Notes
Some customers have reported that you can only have 64 files in a folder. More than 64 will not be recognized.
If you have .wav files that won't play, try converting them to .mp3 files.
---