TC-Helicon Harmony Singer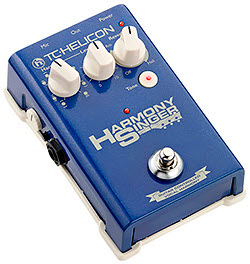 Introduction
The Bose ToneMatch® microphone Presets add EQ and if you use both a microphone Preset and the TC-Helicon Tone feature, you may lower the gain before feedback. If you are using a T1® you can bypass a microphone Preset (see Bypass). If you are using a L1 Compact channel 1, you cannot bypass the microphone Preset.
If you are having issues with feedback try
Set the Tone Style to Less Bright
To enable the 'Less Bright' Tone style, press and hold the 'Tone' button then press the footswitch. The tone button will blink to notify you it is engaged.

This may aid you in dealing with bright feedback issues.

To disable the 'Less Bright' Tone style, repeat the process.

Here is a link to a video outlining the process: http://www.tc-helicon.com/mic-mechanic-harmony-singer-firmware-update/
Note: If you cannot enable the Less Bright Style, you may need to install the firmware update.
Mic Mechanic and Harmony Singer Firmware Update
Disable the Tone Feature
Press the Tone' button to disable the Tone feature.
Engages adaptive EQ, compression, de-essing and gating. Typically, you'll want to leave this on, but try it both ways to see what you like better.
---