TC-Helicon VoiceLive 3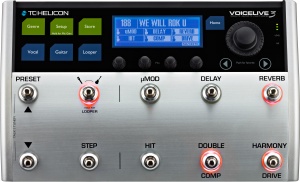 Documentation
Application Notes for the TC-Helicon VoiceLive 3
Guitar Amp Simulations
Question Can you tell me - what are the real life amps that the amp styles are based on?
Acoustic
Clean Brit
Cali Clean
UK Clean
Deep Clean
Bright Switch
Warm
Little Thing
Chicken Picker
Brit OD
AC Crunch
Chunky Brit
Lil Champion
Chime Drive
2 x 12 Combo
4 x 12 Crunch
Swamptone
Nasaltone
Brown
Scooped
Metallic
TC Dark Matter
OD Pedal
Dark OD Pedal
Distortion Pedal
Tom used my Marshall JCM 2000 DSL and my Les Paul Standard to make the Deep Clean, Brit OD, Chunky Brit (and maybe some others) Amp styles. They're done both by ear and by watching frequency response, but they're subjective like any other audio.

The good thing is that all the parameters that Tom used to make every amp style are visible in the editing section. There's nothing hidden or called from a non-editable menu, so in theory, any user should be able to sit with the unit and get a pretty good approximation of whatever amp they want to model.

— Craig (TC Helicon)

Source: TC-Helicon Support forum

See also: VoiceLive3 - Closer Look Guitar
All of the modeling was done using the parameters available within VL3's menus. We didn't put the modeling into a subset of parameters or other data location, we simply sat in a room with the amp if we could and twiddled the knobs until we got an approximation we were happy with. Essentially, anyone wanting to take the time and with a decent ear could model any amp they want to.

— Craig (TC Helicon)

Source: TC-Helicon Support forum
Mapping to VoiceLive Play GTX
How do the VoiceLive 3 Amp simulations map to the VoiceLive Play GTX
Acoustic – direct and clean to be sent to the PA
Clean – Fender Twin
Comp – Fender Twin with compression
Comp Atk – Fender Twin with Bright switch on and compression
BF Combo – Overdriven Fender '65 Deluxe
Bright – Overdriven Modern Fender
Crunch 1 – Marshall Plexi
Crunch 2 – Hiwatt®
Crunch 3 – Marshall Plexi
BF Combo – Overdriven Fender '65 Deluxe
Honk – Vintage combo
Insane – Mesa Rectifier
The styles in GTX (and the underlying processing/algorithms themselves) are completely different from VL3.

— Craig (TC Helicon)
Hardware Fix for High Pitched Whine
TC Helicon VoiceLive 3 - Factory Hardware Problem - Guitar Side Whine Noise uMod Compressor Drive
Heya all,
I know the prospect of buying something new and then have to immediately send it in for a fix is pretty unappealing. Dave's right that it's all about inventory. There are definitely some out there sitting in stores/warehouses that have the issue. Then, there's a bunch more that have been manufactured after the change that fixes it in new builds.
I did a little digging and here's something that might help. The serial number of the first unit that was changed during manufacturing is: 14508303
If you see a number BELOW that, it *could* be affected. If it's ABOVE that, you know it's not going to be affected.
Hope that helps a bit!
Cheers, Craig
September 19, 2014 18:36

— Source: VoiceLive 3: Which real-life amps are the amp styles based on?
---