Wallacher Guitar Hangers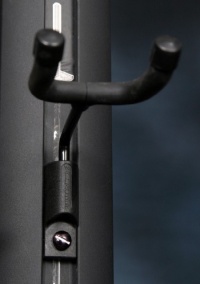 John Moreno (aka John B. Goode) at Wallacher worked with Bose in 2005 to design and produce the WPAS-1 model Guitar Hanger for the L1® System. You can read some of the history in Guitar Hanger for Bose
We don't have pictures here yet but has an optional locking bar as well.
Contact John at john@wallacher.com
Toll free: 1-800-984-2644
http://www.wallacher.com
John describes the WPAS-1
Heres a couple of pictures of the new hangers. They're great cuz you can hang 2,3, or 4 guitars on the bose system. Fully adjustable height. Removable for easy transport. Fits inside the case with no sharp objects. And totally east to mount.

The L1® Owner Community is grateful to John for his generous support of our community events!
---