Zoom H4 and T1® Usage
Using a Zoom H4 Recorder via Two T1 ToneMatch Audio Engines to Record your Gig
This is a "how to" narrative on using a Zoom H4 Handy Recorder and two T1 ToneMatch Audio Engines to record your gig, while performing through an L1 Model II System.
The Products
MSRP: $499.99 Street Price: $299.99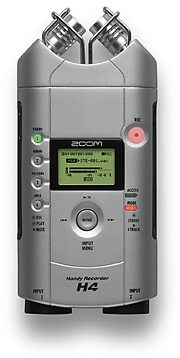 Features
Mobile Field Recording
Fits in the palm of your hand
Ideal for infinite variety of mobile recording applications
Records 24-bit/96 kHz digital audio as well as MP3 format with bitrates up to 320kbps
Two studio-quality X/Y pattern condenser microphones for true stereo recording
Two combination XLR-1/4-inch input jacks with phantom power
On-board studio effects compression, limiting and mic modeling
1/8-inch headphone jack provided for monitoring
512MB Secure Digital (SD) card included
Using a 16GB SD memory card provides 24 hours of stereo WAV file recording in 44.1kHz/16-bit mode with CD Quality sound
Up to 280 hours recording in MP3 stereo mode
USB mass-storage interface
Four hours of continuous recording operation from 2 AA batteries
Back-lit, 128×64 pixel LCD provides the visual interface
AC adapter, windshield cover, USB Cable and tripod adapter included
4-Track Recording
4-track audio in CD quality 16-bit PCM, 44.1 kHz sampling
Combination high-impedance phone inputs for vocals, guitars, bass or keyboards.
Built in guitar amp modeling equivalent to the Zoom G2
Audio Interface
Records directly to your computer as a USB audio interface
Bundled with Cubase LE, 48-Track Digital Audio Workstation software
MSRP: $499.99 Street Price: $499.99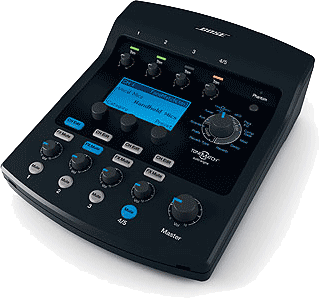 Features
Digital multichannel mixer designed for use with Bose® L1® sound systems
Features over 100 proprietary ToneMatch presets for instruments and microphones
Includes Bose zEQ, storable scenes and a suite of studio-class effects
Presets and firmware updates available free online
The Basics for Recording
I record our gigs with the Zoom H4 Recorder while using two T1 ToneMatch Audio Engines. Using two T1s enables me to record separate channels (left and right) into the Zoom H4 Recorder. With two guitar cables, I run one T1's AUX OUT to the Left Channel of the H4 Recorder and the second T1's AUX OUT to the Right Channel of the H4. Thus, I end up with 8 T1 channels running into my Zoom H4 Recorder with the ability to record all 8 channels, or a mix of them.
(If you are using a single T1 to record from, you may need to split your single T1's AUX OUT signal into two signals as Left and Right inputs into your H4. There may be others options available here. I haven't given any thought on how to accomplish recording left and right channels into the H4 using a single T1 AUX OUT connection.)
Step by Step Instructions
Enabling the T1 AUX output (per channel)
Turn your T1 Master selector knob to "AUX".
Press the CH Edit button of the channel you wish to route to the AUX connector. (Remember, you must do this for each channel you wish to record from the T1.)
Check the T1 display. If Level says "Mute", the channel is currently muted going to the AUX connector. If muted, simply press the knob button underneath the display to un-mute the channel.
Use the knob button to adjust the percentage of the signal you want at the AUX connector. This range can be between 0% (no signal) to 100% (the entire signal) routed to the AUX connector. Think of it as a volume knob to control the channel's volume. Use this method to control each individual channel for your "recording" mix routed to the T1's AUX connector.
Refer to your T1 ToneMatch Audio Engine manual for information regarding the "TAP" button options. Tap settings can be: pre-fader, post-EQ and effects, or post-fader.
Video
Here's a quick video on enabling the AUX out capability of each channel on the T1 ToneMatch Audio Engine.
With the Zoom H4 connected and used as a recorder in this configuration you can expect to get exactly what you would hear from the T1 AUX OUT connector. Provided you have enabled the AUX output on each T1 channel, you'll hear what is plugged into the input of each channel, whether it's a microphone, iPod, guitar, etc.
Setting the "recording mix" of all you T1 channels requires you to listen to the AUX output by some method, or to leave each channels Level mix at its default setting of 50%. The easy approach is to leave everything at 50%. This ensures nothing ends up too hot in the mix. (It appears you can tailor your recording mix by adjusting the Level percentage of each channel, but I haven't taken the time to experiment with this capability, as of yet.) NOTE: Changing this Level setting does not change any MAIN output levels from your T1.
Enabling the Zoom H4 inputs
Be sure to change your inputs on the Zoom H4 from the default "internal mics" to Input Connectors 1 & 2. Refer to the Zoom H4 Users Manual for details on selecting inputs, if needed. This enables you to plug in the cables from your T1 ToneMatch Audio Engines to the H4 for recording, otherwise, you'll still be recording with the internal mics of the H4!
L1 Configurations
The Lodge Brothers use the following combination of Bose equipment for our engagements. Our equipment consists of:
1 - L1® Model II
2 - B1 Bass Modules
2 - T1 ToneMatch® Audio Engines

A unique thing about our band is that we are a dynamic band! Sometimes, we add a second L1® system to our configuration when there are more than three of us playing. We generally book gigs with just three of us playing. But sometimes, there are as many as five "Lodge Brothers" playing a gig! So, due to our personnel configurations, the job, or the request of the person hiring us, our band configuration can change. Generally, when the fourth and fifth persons get added, we add another Bose system. When that happens, our configuration is as follows:
1 - L1® Classic
1 - L1® Model II
4 - B1 Bass Modules
2 - T1 ToneMatch® Audio Engines
(I haven't used the Zoom H4 Recorder when we have used two L1® Systems yet.)

The general flow diagram would look something like this when we are using just a single L1® System:
Microphone / instrument -> T1 -> T1 AUX out -> Zoom H4 Recorder (L or R input)
T1 MAIN out -> L1 System
Recording Comments
I have only accomplished two recordings of our band using this method of recording. The things I have noticed so far, are:
Be careful with your channel mixes on the T1. Ensure they are correct for your overall "live sound" mix on the L1 system. Also, be aware you can change the "recording" mix by utilizing the AUX OUT level settings in the T1. You can have between 0% and 100% of a channel going to your Zoom H4 recorder for recording. This will affect your "recording" mix, but not your "live" mix.
You'll record whatever is picked up by your microphones. This will be dependent on the types of microphones you use, their polar patterns, etc. Just be aware, you'll "record" what the microphone hears!
After the gig, use the playback feature of your H4 Recorder plugged into your L1 System. You'll be amazed that you'll be hearing what your audience heard at the gig! It's a real eye opener, if you've never listened to yourself through the L1 Model II system!!!
What I like about the products
On the Zoom H4 Recorder I particularly like the fact it has two XLR/Phono plug inputs for Left and Right channels. This allows you to use a guitar-type cable from the T1 AUX OUT connectors to the H4. Nothing complicated. Just simple cables. The recording quality I have gotten from this unit meets or exceeds my standard for something of this nature. It's not a multiple-thousand dollar recorder, but for the price I think it does a respectable job. And, in combination with the T1, provides the musician with a very portable and quality recording device for good recordings.
I like the fact the T1 ToneMatch Audio Engine offers the ability to output each of its channels to a single connector on the back of the T1. Having this ability has allowed me to accomplish this procedure and for it to work I as I thought it should. In addition, you can route just a single channel from the T1 to the H4, if you so choose. This offers the gigging musician multiple solutions for getting output from the T1. It's a very flexible and intuitive product offering many alternatives to shaping and recording your sound!
What I do not like about the products
The Zoom H4 Recorder has a VERY small menu screen. At times, it is hard to read, depending on the lighting in the room, glare, etc. In addition, the User Interface (method to select options, change values, etc.) takes some "hands on" time before you can become comfortable with it. The thing I have found is if you don't use the H4 for some amount of time, you have to go through a small re-learning curve on how to negotiate the menus. This is a quirk in the design of the product. In my opinion, it could be more user friendly!
Bose T1 ToneMatch Audio Engine - It takes a while to become familiar with all the features and functions of this product. It can be overwhelming for the first-time user. But, once familiar with its operation and options, you should have no problems.
Review Summary
If you have a Bose L1 Model II and T1 ToneMatch Audio Engine, then recording your music can be as easy as purchasing one of these new digital recorders (with external input capability), hooking it up and playing some music! A recording of your gig has the potential to let your hear where you need a little extra practice on a song or two! Who knows, you might also be able to use this to record your first "live CD", with very little effort on your part! Good luck and if you have questions about this procedure, hook-up, or anything related, please let me know. I'll be glad to answer your questions via the message board or email.
Review Date
Last Revised: 10/10/08
---