The Bose Professional Portable PA Encyclopedia FAQ & Wiki
Bose Pro announced the Bose L1 Pro line, October 26, 2020. Click the picture below for more information.
L1 Pro Family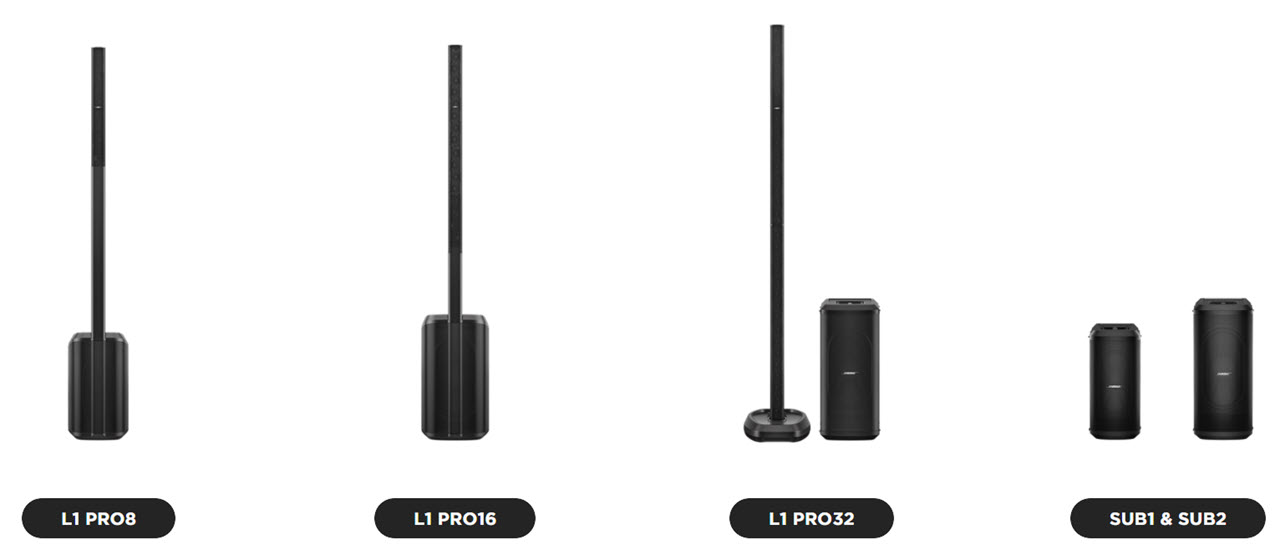 Resources
L1 Pro Family Selection Guide (product comparison)
Choosing the L1 Pro System That's Right for You (Facebook livecast)
Bose L1 Pro Technical Training Videos
Bose Pro Portable PA Community
L1 Pro Technical Certification Course (no charge, but you must register)
Documentation
L1 Pro8 Owners Guide | L1 Pro8 Quick Start Guide
L1 Pro16 Owners Guide | L1 Pro16 Quick Start Guide
L1 Pro32 Owners Guide | L1 Pro32 Quick Start Guide
Sub1/Sub2 Owners Guide | Sub1/Sub2 Quick Start Guide
Local Downloads

L1 Pro8/Pro16 Owners Guide

L1 Pro8/Pro16 Quick Start Guide
Articles
T1 Compatibility With L1 Pro Systems
---
This is the home of Unofficial [1] Guides for Bose F1 and L1 System Users and Performers.
General Interest Articles for L1® System users.
---

L1® Systems on Tour




Please follow the link and then view it full screen.
Getting Started
Click the links in the menu at the top left.
Try the search box (just type in a keyword that comes up in the forum and click Search). Terms to try (individual words) Gain Mixer Mono Phase Chris Cliff Hilmar (hint: you can double click a keyword and drag it into the search box. Then click Search).
Try the Random page link (just keep clicking it for a fast trip around the wiki). After you try it once, you can use the link in the top left menu keep going.
On most pages, you will see category links across the bottom. You can try those too.
Vision
To help Musicians to deliver their music to their audiences with the grace and ease that comes of knowing their craft and their tools.
Mission
To share our collective and growing knowledge about the L1 technology so that we all spend less time thinking about the technology, and more time playing Music.
Goals
To change the perception of Live Music.
To make it possible for musicians to take their music and share it with their audiences, contributing recognizable value and being fairly compensated for what they contribute.
Related Reading
The Bose L1® Wiki Project - For background about the project
Wikipedia:Replies to Common Objections
---
This site is running wiki software by MediaWiki (see logo at bottom right of the page). If it looks familiar, it is because it is the same software used by millions of people on Wikipedia.

When you add content to this site, either in articles, edits, or discussion you are agreeing to the Article Guidelines and the BoseWiki Site Policy.
Any breach of the policy may lead to immediate suspension or termination of your access to this site.
Note: You are welcome to read the knowledge here, but to add or edit content, please Create an Account and Log in (see link at top right of this page). span class="structuredData">
Overview of this site
This is the home of
Unofficial FAQs Guides for

Bose

L1® Portable Systems

Users and Performers. There are 860 articles for you all related to using and performing with the

Bose

L1® Portable Systems for Performers and Owners

---
↑ This site is privately owned, supported by volunteer efforts of owners of the F1 and Bose® Personalized Amplification System™ family of products of products. Please see About Bose Portable PA Encyclopedia FAQ & Wiki for more information.